MEMORIES OF 'DAVY JONES'
Recalling one of Lisburn's biggest characters
by Neill Greenlees
13/04/01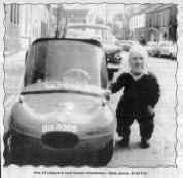 Picture of Davy Jones and his little car brings memories flooding back
THIS, photograph is bound to bring memories flooding back for anyone who remembers Lisburn in the 1960's and early '70's.
It features Davy Jones who, despite his diminutive size, was one of the biggest characters in town.
The picture was taken by Mrs. Muriel Pressley' who now lives at Waterside..
She got to know Mr. Jones when she began to work at the old post office in Bow Street which he visited every week to buy .a 'self employed stamp'.
The motor car beside which he was standing when the picture was taken was made specially for him as he was unable to use one of standard size.
"I can remember him very well driving round the town in that car," said Mrs. Pressley.
"You would think it would have been very ' daunting for him as it was so small."
"Often you'd see a big lorry travelling close behind him and he didn't really look very safe but he just drove on."
Remember
Other people also remember Mr. Jones's car having some close shaves with the double decker buses which used to travel through Lisburn on their way into Belfast.
Indeed the car, which is now an exhibit at the Ulster Transport Museum, was a common sight in the area as its owner lived very close to the town centre.
His house was one of a number which stood just off Antrim Street on what is now part of the Bow Street Mall car park.
A hard worker, he was quite prepared to use his lack of height as a means of earning a living.
"I can remember him appearing on the stage of the Grand Opera House as one of the seven dwarves in Snow White," said Mrs. Pressley. He was also quite prepared to use his size as a means of playing a joke on other people. "He used to go to the Corner House Bar at the junction of Antrim Street and Bow Street," said Mrs. Pressley.
Say
"If anyone came in he didn't know he used to say to them 'I can do something you can't do'. "When they asked him what this was he would actually walk between their legs. "Then he'd say 'I bet you can't do that to me'." Mr. Jones eventually got married and he and his wife became parents. Sadly he died a number of years ago and with his passing Lisburn lost one of its best known residents.
13/04/2001