WHY PETER WAS HERE WHEN OTHERS DIDN'T WANT TO KNOW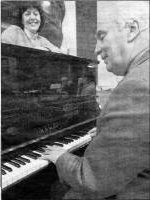 Peter Jackson with the musical director of Railway Street Presbyterian Church, Janet Ferguson
Peter Jackson is a blind pianist who has overcome a number of difficulties in his life to become a noted figure in church and Christian circles. Last week he was at Railway Street Presbyterian Church. This is the second part of JOANNE FLEMING'S interview with him.
Peter first visited Northern Ireland in 1971, so what were his first impressions of the place?
He admits that things were 'pretty tense' at that time.
"Belfast at night was beginning to be more like a ghost town. But nevertheless to those people who came out to our meetings we felt that we owed a lot. That forged the link. A way of saying we're with you without taking sides." Peter Jackson has lost count of the number of times he has been across to the Province since but reckons it's well in excess of 100 visits.
When asked what keeps him coming back, he laughs.
"It's the sort of place you do that. It's very difficult once you've been here to keep away. Without being silly about it, there is just a quality among the couple over here which I love."
The reason why Jackson has such close links to Lisburn is down to his friendship with Harold and Meta Patterson.
Mr Patterson, who runs Smyth Patterson's department store, was a member of the MWE council, so it wasn't long before they were meeting up regularly.
They got together when Jackson was next in Northern Ireland and for the past 3l years he has stayed with the Patterson's during his visits, with Mr Patterson acting as his agent over here.
Rosemary Street Presbyterian was the first church he worked with and he has visited it several times since.
Described as an 'old and well loved friend' of Railway Street Presbyterian by the Rev Brian Gibson, it seems only natural that he would be taking part in last week's fundraising concert at the church.
In fact, it was his friends in Lisburn who rescued him during a period of crisis in 1974. Working with "Torch Fellowship was becoming increasingly difficult. He felt the organisation was not going in the direction lie wanted.
"It was really mainly the Lisburn folk, Harold and Meta especially, who supported me. I wrote to them and said that I thought my ministry was coming to an end as I could no longer come over as a Torch representative.
"Harold and Meta wrote and told me I had a ministry apart from Torch and they intended to support me in that. And so they fixed a whole itinerary for me and it was at a time when it couldn't have collie as a better incentive for carrying on."
Peter has also been to several other Lisburn churches as well as reaching most corners of the province, including Newtownards, Ballymoney, the North Coast and several Belfast churches.
One of the more unusual aspects of his trips here has been his association with loyalist prisoners - an association which began at a house party in Portstewart. It was no ordinary house party, though.
The guest list included 12 ex-terrorists, republican and loyalist, who had converted to Christianity.
The previous weekend there had been a shooting in a church at Darkley in Armagh and his own church in Wales had pleaded with him not to go over.
He then realised why his itinerary for that weekend had remained a secret.
"It wasn't the sort of thing to shout about because I suppose there might have been reprisals if it was felt that some of them had become disloyal. But we had a wonderful weekend."
Peter also tells a remarkable story about how an ex-INLA member and an ex-UDA member went to console the people at Darkley.
Peter was travelling to Armagh prison and was accompanied on his way by these two men. "They weren't allowed to collie into the prison with me of course, so we asked what they were going to do," he said.
"They asked if they could borrow the car to go and console with some of the people who had been traumatised by the shooting at Darkley Without thinking someone from the Prison Fellowship told them to go ahead.
"I said to him, 'Do you realise what you've done? The place is going to be thick with soldiers, they're likely to be pulled up and they're not even in their own car! ...But they never met a policeman, a soldier, nobody,"'
Luckily, it turned out that a visit to Darkley by ex-terrorists was welcomed by the community and they were invited hack.
At this point Peter started making regular visits into the Maze and later Maghaberry prison. He was only allowed into loyalist wings, however, after an incident in which a republican prisoner escaped.
So, did he just walk into prison and start preaching?
"No I just talked to them. I used to take an accordion into two of the compounds and try to get them singing which wasn't difficult. It didn't have to be a Christian song, then I would explain why I was there."
Surely, though, he must have got a hard time from many of the prisoners?
"No, I got a tremendous response, it was unbelievable. One time I was there they held a reception for me. They gathered round and said - 'You've been coming round for some time now and we've really got to know you and we want to present You With this.'
"They presented me with a beautiful case that they had made with 'praying hands' on the front. Inside was a Gideon New Testament. I accepted this and said that I would treasure it.
"When I got back to Harold and Meta's house 1 showed them this and opened it up. They started laughing and I asked them what was so funny. On the flyleaf was written 'God bless you, from members of the UDA Long Kesh'. "'
Did he witness any actual 'conversions'? "It's very difficult to know. 1 can't say that I knew of anybody in the Maze prison who became a Christian. But then again you just don't know."
Stories of prison conversions are often met with scepticism, but of the few people who could make a genuine impact, Peter Jackson has the personality to be one of them.
Not fitting into the mould of a stereotypical evangelist, he well remembers how Church seemed an absolute irrelevance in his youth and how 'children had been an un welcome appendage to the rest of the congregation.'
He says his policy has always been not to 'preach' at people but to 'be there' for them if they choose to come to him.
Peter Jackson's story is undoubtedly am inspiration but has he any plans to begin a somewhat overdue retirement and take things a little easier?
"I have actually. decided that next year I'm going to rationalise my diary a bit and leave spaces which mustn't be filled," he revealed. Saving that, lie promises to be back in Lisburn soon.
21/02/2003