ST PATRICK'S BIDS FAREWELL TO MUCH LOVED STAFF
FIVE TEACHERS RETIRE NEXT WEEK AFTER YEARS OF SERVICE AT LISBURN SCHOOL
by JULIE SPENCE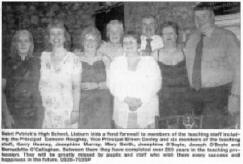 HUGE changes are in store for St Patrick's High School next term as the Principal, Vice Principal and six teachers prepare to leave the school for the final time this summer.
Five of the staff, Gerry Heaney, Josephine Murray, Mary Smith, Eamonn Haughey and Eileen Cooley have spent their entire teaching careers at the Lisburn school and will be greatly missed by their pupils and colleagues.
Gerard Heaney has been teaching at St Patrick's for nearly thirty years and became Head of English in 1985. Mr Heaney has always had a keen interest in Shakespeare and has brought many theatre groups to the school over the years.
As Literacy Co-ordinator at St Patrick's, Mr Heaney is responsible for literacy throughout the school and has always celebrated national poetry day with both parents and pupils.
As well as his love of literature, Mr Heaney also has a great passion for soccer and in particular Manchester United. Having been in charge of school soccer for many years, he has also been responsible for organizing many weekend trips to Old Trafford and Celtic Park. Mr Heaney admits to being a great believer in making people laugh and in telling jokes. He has also confessed to empathising with David Beckham going to Real Madrid as he is also sad to be leaving St Patrick's after many years at the chalkface.
Josephine Murray has taught at St Patrick's for some 28 years, teaching English, History and Religious Education at the school.
As well as her duties as a teacher, Josephine has been involved in many cultural and cross community trips with pupils from the Lisburn area.
Mary Smith has also spent her teaching career at St Patrick's and has taught PE at the school for 15 years. In recent years she has been responsible for the successful creation and running of the school's Moderate Learning Units.
Mary has been a Year Head and a member of the school's Pastoral team for many years. She will be sadly missed by all the pupils and staff at St Patrick's and the school wishes her every success in the future.
As well as Mr Heaney, Mrs Murray and Mrs Smith, three other members of the teaching staff are also departing from the school. Mrs Josephine O'Boyle, Home Economics, Mr Jospeh O'Boyle, who teaches Technology and Design and Miss Bernadette O'Callaghan, Art teacher, are all leaving St Patrick's at the end of term.
Miss Cooley starts and ends her career at St Patrick's High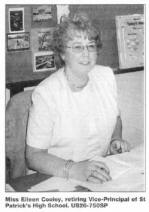 EILEEN Cooley has been a familiar face in Lisburn for many years, having taught at St Patrick's High School in the city for almost four decades.
Miss Cooley began her teaching career at the school in September 1966 when St Patrick's was a newly opened school of 220 pupils, 14 teaching staff and one caretaker.
Since then it has expanded greatly and, with a wider catchment area, there are now 34 teaching staff and 14 support staff at the school.
Over the 37 years Miss Cooley has been at the school, she has taught history, geography and maths and she openly admits to having one clear favourite amongst the three.
"My favourite subject will always be geography. It has given me my deep love of travel. 1 will miss my geography department colleagues, who are a lively, talented and dedicated team," she said.
During her time as a geography teacher, Miss Cooley has been involved with many field trips, including taking pupils to the Lake District, Ireland and Scotland and even further afield to Barcelona. For many pupils the highlight of the school year was a trip to Lisdoonvarna in Co Clare, which bas been described as 'serious geography combined with craic and fun.'
In addition to her responsibilities as a teacher, Miss Cooley has also been a Vice-Principal at the school and has been in charge of curriculum and staff development.
Enthusiastic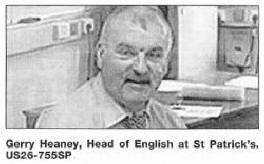 She has always been very enthusiastic about her post, saying: "I have always enjoyed and felt challenged by new initiatives and indeed there have been many over the years. A very rewarding part of my post has been to act as teacher tutor to beginning teachers. I loved the enthusiasm and fresh ideas they brought into the system."
Looking to the future, Miss Cooley welcomes the new trend of vocationalism in the curriculum, with an increased emphasis on the development of 'employability' skills.
A major thrust of Miss Cooley's work last year was to set up 'New Pathways', a course for year 11 pupils which combined three days in St Patrick's and two days of work related job skills in Graham Training.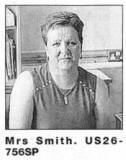 The programme gives pupils the opportunity to experience success in a more adult learning environment and to work with pupils from Lisnagarvey High School.
With much more free time now, Miss Cooley hopes to spend more time on her bobbies and interests, including Soroptimism, photography and travel. "I hope to spend my time pursuing 'life's mysteries"'
Miss Cooley has been a great asset to St Patrick's High School, and indeed the wider Lisburn community for many years. She will be sadly missed by the pupils and staff of the school, who wish her all the best for the future.
"I appreciate the privilege of teaching several generations and it has been a delight to share and shape the lives of so many young people over the years. I will miss the challenge and buzz of the job," added Miss Cooley.
"I thank all the parents, staff and governors for their kindness, friendship and support down through the years. I leave teaching much enriched by my experiences in the classroom.."

ST PATRICK'S High School in Lisburn reaches the end of an era as Mr Eamonn Haughey ends his teaching career as he began it - in St Patrick's High School.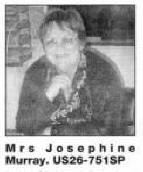 Mr Haughey was head of History at the school for fifteen years before becoming Principal in September 1988, when he
became just the second principal in the schools history since it first opened its doors in 1966.
The 1990's saw the advent of major changes in Northern Ireland's education system. Mr Haughey was always at the forefront of curriculum innovation and development, overseeing the implementation of the new Northern Ireland Curriculum and the introduction of the Local and Financial Management of Schools.
One of the major legacies of Mr Haughey's term in office bas been the new building programmes which be bas overseen. This includes state of the art technology, science and ICI suites. A new build programme is due to commence in the next two months which will incorporate a new teaching block.
St Patrick's is now in the forefront of ICT with a highly trained staff and high competence levels amongst all pupils.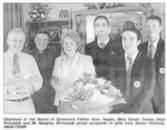 Mr Haughey has represented his school on various committees over the years. He has been Chairman of ASCERT and has been involved with Secondary Head Sub Committee focusing on behaviour, Lisburn Drugs Forum and the Lisburn Parish Finance Committee.
Mr Haughey commented, "Obviously the effectiveness of Principalship is determined largely by committed staff and a team approach - in this respect I have been extremely fortunate in my career."
The staff and pupils of Saint Patrick's High School, Lisburn. both ce past and present, would like to wish Eamonn a happy retirement with his wife Margaret and family.
04/06/2003