LISBURN'S BALLROOM OF ROMANCE
Lisburn's ballroom of romance is gone but not forgotten
by Jakki Black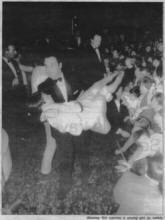 IT really was the end of an era in Lisburn on June 17, 1972 when Lisburn's top entertainment venue, The Top Hat Ballroom, was destroyed by a terrorist bomb.
Lisburn has never seen the likes of the Bow Street 'Ballroom of Romance' before and is never likely to again.
With the capacity of thousands, The Top Hat brought a life to Lisburn that it hasn't known since, not to mention bringing more than a few couples together in the dance of life.
It seems hard to imagine now, but artists such as Little Richard, Sandy Shaw, Sunny and Cher, Roy Orbinson and Acker Bilk all performed in Lisburn.
The golden period took place at the height of the showband era, which is now being revived by Radio Ulster's George loves who holds showband evenings at regular intervals in the Waterfront Hall.
Indeed the showband era in itself was a magical time all over Ireland as local man Jim Carter recalls.
"We used to look forward to a Friday and Saturday night as you could be always sure of a good band playing in the Top Hat," he said.
"I remember dancing to Brian Coll and the Buckaroos, The Royal Showband and the Dave Glover Band, and of course the Miami Showband who were a truly great act.
"In those days there always seemed to be a great atmosphere and the music was what I would call decent, not all this rubbish that you get now. Nowadays you can't make out a word they are saying half the time, but then maybe I am just getting old."
The Top Hat was one of the biggest ballrooms in Northern Ireland with people coming from all over the country to enjoy night out.
There was no alcohol allowed on the premises, everyone was searched at the door and if any drink was found it was confiscated and you were given a receipt to reclaim it at the end of the evening.
Lisburn man Stanley Orr was the manager of the Top Hat.
He was in charge of all the staff and saw to the needs of the different stars who appeared. He attended to their food requirements, changing room allocations and safety.
George Connell, the then owner of the Top Hat, decided he wanted Stanley to be in charge of his Lisburn venture, having known him from the days when he was a boxing promoter and Stanley was one of his charges.
Specific
Stanley recalled: "George was able to get all the big stars of the time, mainly because his daughter Dorothy was married to Phillip Solomons, who was a big record producer, so it was often only a matter of George lifting the phone to get a specific act or star for the Top Hat.
"I have many memories of the years that I worked there and of the different artists.
"Mainly they were all very professional people who caused very few problems.
" They would come with their bodyguards and so on, but I never witnessed any of the extreme demands that you hear stars having today, like a certain type of water to-drink, and there were certainly no primadonnas throwing tantrums. They all just got on with the job they were paid to do.
"One star stands out in my mind as a real gent and that was Little Richard.
"A friend of a young girl in a wheelchair asked me if I would get his autograph for her. I knocked on his dressing room door and said would he mind signing a photo for her.
"He wanted me to bring the girl up to meet him, but when I explained she couldn't because of her situation he went out to meet her personally, giving her his autograph and a hug. it really made the girl's evening.
"Then one night we had the Bee Gees playing and as you can imagine the young ladies were going crazy to get on the stage.
"I must admit I had my hands full that night picking up all the young lassies who were fainting, but that sort of thing didn't happen often, thank goodness.
"All in all it was a great time and often I bump into people in Lisburn now who knew me through my days at the Top Hat. I was part of the furniture.
"My own personal favourite artist was Brenda Lee. Her voice was amazing, you had to hear it to believe it.
"She really had the place buzzing the night she played, everybody was on the dance floor - even those who normally would have stayed on the sidelines . but she really brought things to life.
"There aren't too many artists around like her today, a real livewire if ever there was one."
The Top Hat was never rebuilt after the bomb, leaving not just a gap in the town, but a gap in many people's lives.
Profile of Stanley Orr
Ulster Star
9/03/2001