Nevin and friends ready to make a splash for charity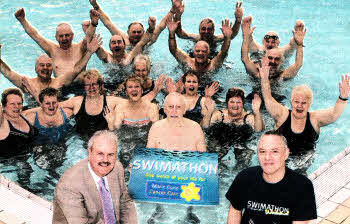 Councillor Thomas Beckett, Chairman of the Council's Leisure Services Committee at the launch of the 2012 Swimathon with Mr Phil Kane, Marie Curie Cancer Care and local swimmers who will be taking part in the 25th Swimathon as a team led by Mr Nevin Mitchell.
NEVIN Mitchell is set to prove you're never too old to take part in the world's biggest fundraising swim when he gets in the water the Lagan Valley LeisurePlex for the 25th Swimathon weekend in April.
Nevin, who is 85, will be taking part alongside over 20 of his early morning swimming buddies and LeisurePlex staff to raise money for Marie Curie Cancer Care. Nevin's wife recently died of cancer and he is very keen to raise money for this very worthwhile cause.
And the LeisurePlex is hoping as many residents as possible will participate in its sessions on Friday April 27 at 6.00pm 9.00pm; Saturday April 28 10.00am-1.00pm and 2.00pm-5.00pm and Sunday April 29 2.00pm-5.00pm. It is one of 645 pools across the UK taking part in the world's biggest fundraising swim, which this year will benefit Marie Curie Cancer Care and Sport Relief.
Councillor Thomas Beckett, Chairman of the Leisure Services Committee, said: "I would like to commend Nevin on his commitment to the 2012 event; and I wish him and his fellow athletes, who together will swim as Anne's team', every success in their valiant fundraising effort for Marie Curie Cancer Care.
"Training for and participating in the Swimathon is the perfect way to exercise regardless of your ability; and swimming is very relaxing for the body and mind. Residents can participate alongside friends and family while raising money for charity.
"The LeisurePlex consistently performs well at the annual Swimathon event and in the past has received the honour of being the number one fundraising pool in Northern Ireland. It would be great if this honour could be achieved once again in 2012, which will be a very big year for sport. I would like to encourage as many people from the Lisburn area as possible to get involved this year to raise money for either Marie Curie Cancer Care or Sport Relief through the 'Big Splash Mile'.
"You can register online at www.swimathon.org and select Lagan Valley LeisurePlex as the pool you wish to swim at. For those who prefer to support family and friends from the sidelines, you can sponsor those who take part in the Swimathon Challenge by clicking on the 'sponsor a swimmer' section of the Swimathon website," he concluded.
Swimathon weekend participants can raise funds for Marie Curie Cancer Care by swimming the 5K, 2.5K or Team 5K challenges or for Sport Relief by swimming the 'Big Splash Mile', individually or as part of a team. The Corporate Challenge is where colleagues in a team of two to five people take part in a 5K challenge.
If you cant take part (April 27 and 29) or you want a bit more flexibility, you can take part in the SimplySwim. This challenge allows you to swim any distance, at any time and at a pool of your choice so you can still take part in the world's biggest swim.
Schools can participate in the Swimathon SimplySwim Schools challenge to be part of the world's biggest fundraising swim event. As many pupils as a school wishes can be registered, and they can swim any distance at a pool of their choice at any time. To enter your school please telephone 0845 36 700 36. To find out more about the Swimathon log onto www.swimathon.org.
Ulster Star
24/02/2012