Education Minister 'committed' to ensuring every child has a pre-school place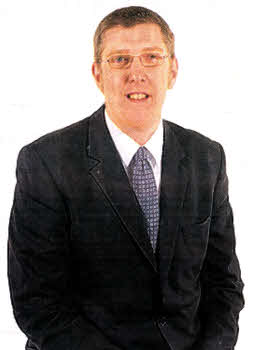 Education Minister John O'Dowd
FIGURES revealed this week have shown that there are hundreds of children across Northern Ireland who have yet to find a pre-school place. However, the Department of Education have said they are committed to ensuring every child has a place.
Figures show that in the South Eastern Education and Library Board area there are still 354 children left unplaced. The statistics are similar for other Board areas, with almost 1,500 children across Northern Ireland still without a pre-school place for September.
A spokesperson for the Department said: "Many parents and guardians will be pleased to receive confirmation that their child has gained a place in one of the pre-school settings selected on their application.
"Others will be advised by their local Education and Library Board that, unfortunately, they have not been allocated a place in any of the settings they chose. The Department would like to reassure these parents that the admissions process is not yet complete and would strongly encourage parents to apply again for remaining places in the second stage of the process.
"The letter from the Board includes a list of pre-school settings with vacancies and an application form on which parents should indicate further preferences. Letters advising of the outcome of this second stage of the application process will be issued to parents on June 1."
The spokesperson added: "The Department is committed to ensuring that a pre-school place, in a voluntary, private or statutory setting, is available for all children whose parents wish to avail of it.
To this end, significant additional financial support has been allocated to Education and Library Boards in the last 12 months to help finder for demand."
Lagan Valley Assembly Member Paul Givan has said more needs to be done to increase the provision of nursery places in Lisburn.
"Some nursery schools are heavily oversubscribed and in these areas the capacity to accommodate the growing populations is not being met, resulting in parents having to send their children to alternative providers, often much further away from home," said Mr Givan.
"In a meeting with the Education Minister at Stormont I raised this issue and am pleased that additional provision is being made in areas of high demand with two new voluntary providers being established but a more fundamental assessment is needed that will provide the nursery places much closer to where people live as the current system is denying parental choice," he added,
---
Glimmer of hope as go ahead if given for new nursery unit at Tonagh Primary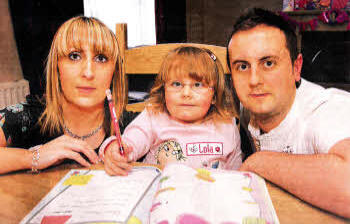 Parents Andrea and Noel Cummings, from Glenwood Court, Lisburn, have been unable to find a pre-school place for their three-year-old daughter Sophia. US1412-515cd
THE Education Minister has given the go-ahead for a long-awaited new nursery unit at Tonagh Primary School.
The Minister, John O'Dowd, has approved the establishment of a 26 place part-time nursery unit at the Lisburn school.
Commenting on his decision, the Minister said: "The establishment of this new facility will be welcome news. I am satisfied that there is a clearly demonstrated need to create more pre-school places for the benefit of the children in the area.
"My Department is committed to providing a place for each child in their immediate pre-school year. Research has shown, however, that there is no discernible benefit to children of a longer daily pre-school session- Therefore in this instance I have modified the proposal and given approval for the establishment of a 26 place part-time unit," he concluded.
Ulster Star
06/04/2011