Diabetes UK seeks daredevils for abseil challenge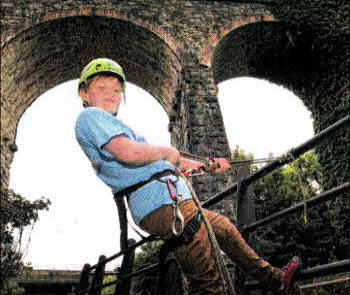 Ryhs McDonnell calls on people to sign up for the Dromore Viaduct abseil challenge on Saturday, August 25
DIABETES UK Northern Ireland is calling on local daredevils to sign up for a brave challenge and abseil down Dromore Viaduct on Saturday 25 August to help raise vital funds for the 73,500 people here living with diabetes
The 74ft abseil will begin at loam and participants will be given a full safety demonstration before they begin. Registration costs £25 and each person is asked to raise a minimum sponsorship of £75.
Twelve year old Ryhs McDonnell from Banbridge has Type 1 diabetes and has joined Diabetes UK Northern Ireland to promote the abseil. His mum Theresa talks about the help Rhys and his family have received from the charity. "When Rhys was diagnosed it affected us all. Although Rhys learned to manage his own insulin injections on a daily basis, it took us a while to come to terms with it as a family and we still had lots of questions. Diabetes UK was fantastic and when I contacted the Careline, the Care Advisor for Northern Ireland got in touch and was so helpful. Rhys has attended the children's holiday camps and these have really improved his confidence. He's met lots of other young people with diabetes and it's helped him realise that he's no different to other children; he's just a young boy who happens to have diabetes.
"Our whole family has done a lot of things with Diabetes UK Northern Ireland and this has really helped Rhys come to terms with his diabetes. He loves being outdoors and so really wanted to help support the abseil. This is a great way to challenge yourself while raising money for a very worthwhile cause so I'm hoping as many people as possible will sign up and help support the growing number of people in Northern Ireland with diabetes."
Naomi Brown, National Fundraising Assistant at Diabetes UK Northern Ireland added "Taking part in an abseil is an excellent way of raising money for charity while at the same time, setting yourself a personal challenge. Money raised from the Viaduct abseil will be used to fund research into diabetes, care events, awareness and improved services campaigns and the charity's Careline service so we want to see as many people as possible signing up and becoming part of an event filled with exhilaration and fun."
There is a minimum age limit of 14 years and participants under 18 must have the permission of a parent or guardian. People are encouraged to bring along their friends and family to cheer them on as they prepare to make their descent.
For further information on the abseil, contact Naomi Brown on 028 9066 6646 or email naomi.brown@diabetes.org.uk
Ulster Star
03/08/2012