Website offers better service to disabled people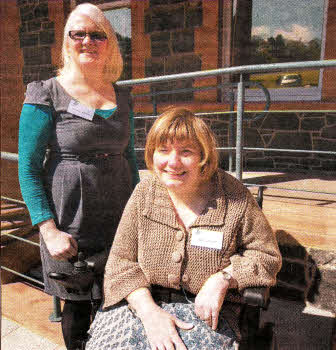 Adapt NI volunteers Rosaleen Dempsey from Aghadowey and Zelda Mussen from Lisburn at the launch of the revamped website Access 400 which provides information on disabled access to many of Northern Ireland's top arts, cultural and heritage venues.
PEOPLE with disabilities in Lisburn were given a boost this week with the launch of an upgraded website giving information on disability access to some of the city's most popular venues.
The online guide ACCESS400 created by the charity ADAPT NI for local disabled people also performs a vital service for tourists to enable them to visit hundreds of arts, cultural and heritage venues across Northern Ireland.
Venues on the website include the Irish Linen Museum and the Island Arts and Civic Centre in Lisburn.
After months of consultation with disabled individuals and groups, ACCESS400 has introduced a new online service that will allow users to give feedback to each of the 400 listed venues. Other improvements include new accessibility features and faster search engines.
ADAPT NI Development Manager Caroline Shiels said that tens of thousands of visitors to Northern Ireland will have specific accessibility requirements and this guide was essential if Northern Ireland was to be recognised as a world class tourist destination.
Ms Shiels added: "We have a thriving cultural, arts and tourist industry with a lot on offer for visiting audiences and participants.
"This website provides visitors and local people with practical information on whether venues are accessible and therefore helps people plan their itinerary more effectively. "Our improved website means that users can rate and add comments on any of the venues featured, which will mean greater interaction between the customer and the venue. "This is a positive step as it means that some of our most iconic buildings are getting first hand feedback from individuals."
ACCESS400 website https://www.adaptni.org/
Ulster Star
04/05/2012