Lottery grant gives Lisburn's older people a chance to 'act up'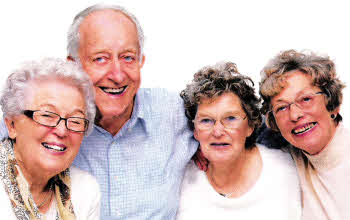 Local people taking part in the 'Acting Up' programme.
EARLIER this year the Big Lottery announced a major £180,000 investment for a new performing arts project exclusively for older people entitled 'Acting Up '.
This week Kaleidscope, the project's organisers, have announced that Lisburn will be one of the first area's in Northern Ireland where the Acting Up project will be rolled out.
The project is called Acting Up because it is based on the performing arts and because it is an opportunity for older people to be creative, have some fun and challenge some of the images and stereotypes of older people.
Kerry Rooney, Kaleidoscope's Artistic Director and the Project Coordinator explained: "The Acting Up project is all about giving older people the opportunity to get out, get active and get involved in the performing arts and in their local community.
"It's a chance for older people to make some new friends, learn some new skills and take on a few new challenges.
It's a terrific opportunity for older people who have been involved in theatre and drama in the past and would like to get back into it and also for people who have never done anything like this before but fancy trying something new"
The Lisburn Acting Up projects will kick off in September and will run for twenty weeks, during which time the participants will meet once a week and have the chance to get to know one another better, get involved in drama activities like improvisation and role-playing and to swap stories and explore some of the issues that are important to them, through drama.
Each Acting Up project will conclude with the participants producing their own unique piece of theatre and performing it at a local arts venue in front of an audience made up of family and friends.
But as Kerry explained: "the Acting Up project is not just for budding performers, if you don't fancy treading the boards yourself, there are lots and lots of ways of getting involved and helping out behind the scenes. The Acting Up project is open to everyone."
The best part is the Acting Up project is completely free for participants and there's even help available with transportation for those who have trouble getting about.
A special information session will be held for anyone wishing to find out more about the Acting Up project on Tuesday September 4 at 7pm in the Bridge Community Centre.
In the meantime if you would like more information log onto the Kaleidoscope website www.kaleidoscopeni.com or contact 07720773225.
Ulster Star
31/08/2012