A loud noise woke Rosemary - and changed her life forever
by MARY MAGEE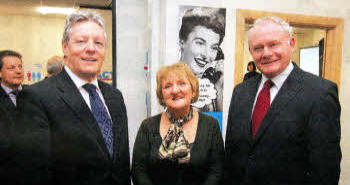 Rosemary Gardiner with the First Minister Peter Robinson and Deputy First Minister Martin McGuinness .
A LISBURN woman has spoken of how a sudden attack of tinnitus two years ago has changed her life forever. Rosemary Gardiner developed the hearing condition almost overnight after she got a viral infection.
She told her story at the opening of Action on Hearing Loss's (previously known as RNID) new premises at Adelaide Street in Belfast The work of the charity became invaluable for Rosemary. They offered her continued support and help.
It was one morning in 2010 when Rosemary was awoken at 4am by a loud noise. At first she thought it was a lorry, and looked out of the window to find nothing outside. She soon realised the sound was following her around and couldn't even hear her own footsteps. When she woke her husband she couldn't hear him speaking. Annoyed by what had happened the pair got ready and took the dog for a walk around the quiet streets, until dawn broke.
She visited her GP the next morning and was referred to hospital where tests were carried out She was astonished to find she suffered from the condition and that there was simply no cure.
Rosemary became anxious and was prescribed sleeping tablets and sedatives for the next six months as the noise was unbearable.
She was tortured, unable to sleep or eat, and lost two stone in weight but the most heartbreaking thing of all she had to give up something she cherished - looking after her grandchild.
At her lowest ebb she felt suicidal, fearing what her life would be like with this continual loud noise ringing in her ears.
She also developed 'Hyperacusis, an increased sensitivity to sound, and found even a trip to the supermarket greatly distressing because of the of the noise.
I simply went through a terrible time," Rosemary said. "It really affected my life and there was no real help until I went to RNID. I found what was available and got good support."
Rosemary discovered a tinnitus awareness event where she met other people who understood her condition and who had personal experience of getting the tinnitus under control. This gave her hope for the future.
As a result of that meeting she was made aware of 'sound enrichers' which can help distract the brain from the tinnitus noise by introducing other soothing sounds. She also learnt of ways to cope with the tinnitus and to manage the associated anxiety and the noise has dissipated to a degree where she can now cope with it. She still has occasional sleepless nights when the tinnitus is troublesome, but her quality of life is greatly improved.
She also went online to find other sufferers and met two young people who believed that they got the condition from going to nightclubs.
Rosemary now manages her condition with a sound generator that helps to drown out the noises.
"It is the most unpleasant thing and very distressing," she said. "But thankfully I have learned to live with it and the support and help I have got has greatly eased."
Also at the launch were First Minister Peter Robinson and Deputy First Minister Martin McGuinness who both admitted to having hearing problems.
Mr. Robinson revealed for the first time how he has experienced hearing loss in his left ear for the last two years - something he has never spoken of publicly before. Mr. McGuinness spoke of how he has had tinnitus for the last 10 years.
They are two of the almost 300,000 people in Northern Ireland with similar problems, many of whom can access support from the charity's workers.
Northern Ireland Director for Action on Hearing Loss Jackie White said: "We want everyone in Northern Ireland who is experiencing hearing loss to be able to live as normal a life as possible with the appropriate and timely information and support."
There are a large team of volunteers on hand to offer support and information to people with hearing loss, and who can carry out hearing checks. They can also help hearing aid users get the best out of their aids. Also available is a local Community Support and Development Worker who supports deaf adults and young people in the area who may be at risk and who cannot access general support services due to communication difficulties.
The public are encouraged to contact the Belfast office to access the charity's broad range of services; including information resources on deafness, hearing loss and tinnitus, assistive equipment, access to employment and learning, benefits and lifestyle advice, interpreter services, hearing aid support, peer support, hearing checks and specialist care services. They can be contacted at Harvester House, 4-8 Adelaide Street, Belfast. ring 028 9023 9619 or email: information.nireland@hearingloss.org.uk
Ulster Star
24/02/2012