Be like Adam, a true family hero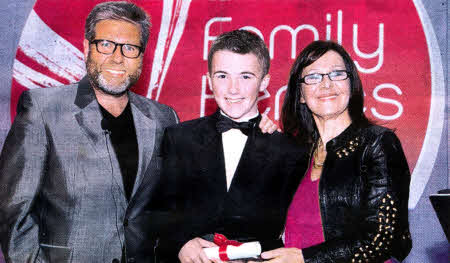 12-year-old Adam Kerr receives his award from Dr. Neil Fox and Arlene Phillips in 2011
A 12-YEAR-old Moira boy who has shown exceptional bravery throughout his life was recognised last year as he picked up 4Children and Take a Break's Family Hero Award with prize money of £2000.
Adam Kerr not only donated bone marrow to his little sister Helen, three, to try to save her life from a rare form of cancer but has continued her legacy by helping others. Sadly, Helen passed away but when she died Adam began raising money for children he'd met during Helens time in hospital. He gave them his toys and as he. grew up he organised fundraising activities to help pay for their treatment or to give terminally ill children the chance to fulfill one of their dreams.
Now nominations are underway to find this year's 4Children and Take a Break's. Family Hero. Family heroes come in all shapes and sizes so they can be a family member, a friend, childminder, social worker or teacher.
Returning to host the awards after last year, radio and television presenter, Neil Fox said: As many of us know, raising a family is one of life's most incredible and rewarding experiences but it is also, at times, one of the hardest jobs out there and sometimes we all need a bit of extra help to get by and give our children the best possible start in life.
Inspired
"These awards are the least we can offer to the heroes that have inspired us and helped us to get through the daily challenges of everyday life."
Anne Longfield OBE, Chief Executive of 4Children said: "These awards are a fantastic opportunity for us all to show our appreciation for the efforts of those that have helped to support families and
children through the challenges that they often face in day to day life.
There is so much unrecognised goodwill out there of people who do so much for others, and the inspiring winners of the Family Heroes Awards remind us how important it is for us all to do our utmost to make a difference in the lives of others."
To nominate a family hero, go to
https://www.4children.org.uk/Page/Family-Heroes-2012-Nominations. You can find out more about the awards and complete a nomination form.
Each finalist will receive an all expenses paid trip to London to attend the . glamorous Family Heroes Awards Ceremony on Thursday November 1. The overall National FamilyHero will receive a £2,000 cash prize.
The deadline for nominations is August 31.
Ulster Star
03/08/2012