Lisburn man brings summer steam trains to the seaside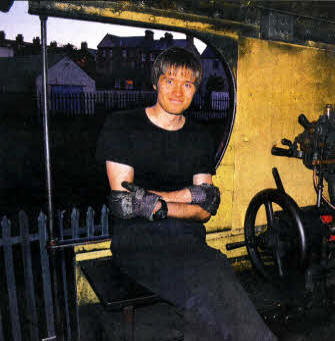 Adam Lohoff sitting on the drivers seat of one of the steam locomotives.
LISBURN man Adam Lohoff, has an interesting and unusual hobby. The 21 year old local man is more used to playing with the latest technology, but in his spare time he is a part of the volunteer support crew for the Railway Preservation Society of Irelands summer steam trains to the seaside.
This season, Adam's work will ensure that the people of Portadown, Lisburn and Belfast have a unique and stylish way to travel to the seaside. Passengers on the July 28 Bangor Belle Steam Train can board at Belfast Central, Portadown or Lisburn and will be able to experience the thrill of steam train travel from a generation ago. Steam locomotives are labour intensive and that is why Adam is part of a critical team.
Adam said: "Steam railway locomotives are not like a car that can be started and immediately driven.
"Our steam locomotive was built in 1879 and needs to be warmed slowly. ['ll light the fire in its firebox at about midnight and expect to have the loco ready to move under its own steam about 8 hours later."
During the day, the support crew will ensure the locomotive parts are kept well lubricated and that coal is readily available to the fireman. The tasks are dirty and physical, so why does Adam volunteer for this?
He said: "Steam locomotives are magical. Lighting the fire and breathing life into a machine is a very magical thing. More than that, I am doing the same job someone did 133 years ago. Amazing!"
"We have a great 'family' of volunteers and we really enjoy working together to keep these trains running. I've been volunteering most weekends for a couple of years now and I'm on a learning grade that was established back when steam trains were commonplace. There is no better feeling than working with friends to keep this part of our history alive." The steam trains that Adam and the other RPSI volunteers will be bringing to the Northern Ireland public are the Bangor Belle on July 28 and the Portrush Flyer on August 19 and 26th and September 2.
By offering a steam train - a unique and leisurely means of travel - passengers, especially families, will be able to enjoy a few hours by the sea, without the hassle of traffic jams and car parking.
Passengers on the Portrush Flyer steam train, from Belfast Central to Portrush and back, have the option of purchasing Standard class or First Class tickets. Tickets for these August 19, August 26 and September 2 are already on sale and expected to sell quickly. First class passengers will enjoy a Bucks Fizz reception, a quality packed lunch and waiter service throughout their journey.
The steam locomotive at the head of the train is expected to be No.186, built in Liverpool in 1879, the oldest operational mainline locomotive in the British Isles. Lovingly restored at the Societies workshops at Whitehead, the locomotive exudes Victorian charm and is a favourite, with the regular Drivers and Firemen.
All trains offer passengers travel in lovingly restored carriages, the opportunity for children (and more nostalgic adults) to get close to the steam engine and talk to the driver and fireman and a relaxing journey through the seascapes and countryside of Northern Ireland. RPSI Operations Officer, Mervyn Darragh commented: "All of our trains feature a fully restored Dining Carriage, serving hot and cold snacks, drinks and a full bar with draught beers.
"We always enjoy helping the public and especially children to get closer to the industrial heritage we maintain. A steam train just oozes atmosphere and we would especially appreciate the public sending us drawings, notes or poems about their day out on the steam train for posting on our website." July 28 Bangor Belle Departure times: Whitehead RPSI Excursion Station 11:45, Carrickfergus 12:00, Belfast Central 12:35, Portadown 13:45, Lisburn 14:45.
Return departure from Bangor at 18:15. Tickets (Adult £15, Child £13)
August 19, 26 and 2nd September 2 Portrush Flyer trains start from Belfast Central at 11:15 and tickets cost Standard Class Adult £20 Child £13. First Class £80 for two persons.
All tickets are available in person, by phone or on-line only from: Belfast Welcome Centre, 47 Donegal' Place, Belfast, BT1 5AD 028 9024 6609. www.steamtrainsireland.com Advance ticket purchase is recommended.
Ulster Star
20/07/2012