Outstanding award for Derriaghy teenager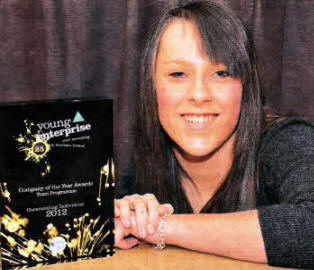 Fleming Fulton pupil Amy Cameron with her Young Enterprise Outstanding Individual award US2012-402PM Pic by Paul Murphy
A Derriaghy teenager has won an outstanding individual award at this year's Young Enterprise Northern Ireland awards.
Amy Cameron, 17, of Fleming Fulton School won her award for her work with the school's 'Cracking products' mini company of which Amy was Managing Director.
Amy who has cerebral Palsy was responsible for the day to day running of the business.
The mini company followed the Young Enterprise Team Programme, and in April they were invited to the Ulster Folk Park in Cultra to give a presentation and interview in front of a panel of judges and due to the class's outstanding performance they were crowned Belfast and Castlereagh regional winners. They progressed to the next stage were they had to do their presentation and interview again.
Amy was recognised as being outstanding in her performance throughout the whole process.
The judges felt she was confident, caring and really shone through and therefore was awarded the outstanding individual award together with a cheque for £250.00.
Amy's teacher said: "Amy has done so well as she was in a very competitive competition and was awarded this out of everyone in Northern Ireland who took part in the programme.
"Well done to Amy and the whole class as they have done so well to achieve all they have this year."
Ulster Star
18/05/2012