Milestone anniversary for Anahilt Presbyterian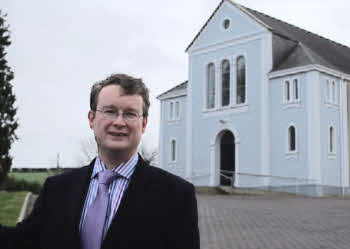 Anahilt Presbyterian Church
ANAHILT Presbyterian Church is celebrating its 350th anniversary this year and to recognise this milestone in the Church's history a recent internal refurbishment of the Church building on the Windmill Road outside Hillsborough took place.
To celebrate, three special services are being held. On Saturday, October 27, at 8pm an all-ages community harvest celebration will be led and conducted by Glengormley Methodist Youth Choir. GMYC is dedicated to evangelism and discipleship amongst young people in Northern Ireland and Anahilt Presbyterian Church is delighted to have this group join us. The service is intended for people of all ages and the Church would like to extend a special invitation to the younger generation. Supper will be provided afterward.
Then on Sunday, October 28, the harvest morning service will be held at 10.45am and the speaker will be Rev Gareth McFadden. The special evening harvest service to rededicate the Church building will take place at 6.30pm and the special guest speaker will be the Moderator of the Presbyterian Church in Ireland, The Right Rev Dr Roy A. Patton. Dromore Male Voice Choir will also be singing and leading in praise. Supper will be provided afterward. Special harvest offerings from all three services will go to the regeneration fund and 10% to TearFund. All are very welcome to these services.
Ulster Star
12/10/2012