Jobs boost for Lisburn firm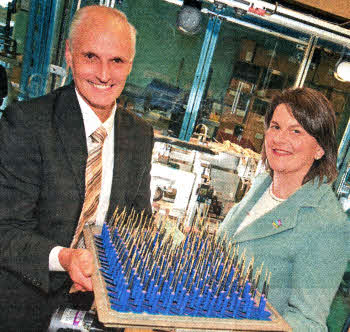 Enterprise Minister Arlene Foster today visited Aromet Group Ltd in Lisburn to announce the creation of 32 jobs with support from Invest Northern Ireland. The £3.2 million investment at the tyre repair product manufacturer will also help the company upgrade their premises and expand its Research & Development function. Pictured with the Minister is Aromet Group Limited Managing Director Mark Noble.
US-owned Aromet Group Ltd is to create 32 new jobs in a £3.2million expansion of its Lisburn operation.
The investment, which is being supported by Invest Northern Ireland, was announced during the Enterprise Minister Arlene Foster's visit to the company on the Ballinderry Road this week.
Invest NI has offered £160,000 in support of this project.
Aromet Group is a subsidiary of Tech International based in Ohio, the world's leading provider of tyre and tube repair solutions. The local facility manufactures a range of tyre repair products for the international marketplace.
Announcing the investment Arlene Foster said: Aromet Group has a long history in Northern Ireland and this significant investment marks its further commitment to the region. As well as creating 32 jobs, the investment will see the company upgrade its factory premises, install state-of-the-art IT systems and develop a new e-commerce website. .
"In today's highly competitive world, R&D needs to be at the heart of every business growth strategy so I am pleased to see that Aromet is also expanding its research and development function to strengthen its focus on innovation.
"Building elements of R&D and innovation into a company's core activities is not only important for individual business success but absolutely essential to wider economic growth. The support offered by Invest NI, under its Boosting Business initiative, signifies the government's focus to secure the long-term growth of our economy by encouraging all Northern Ireland businesses to consider how R&D can give them an advantage in the market place."
Aromet currently employs 60 staff. The additional staff will be mainly manufacturing and sales positions, but four new high level management posts will also be created. The company plans to target new high profile clients across Europe.
Mark Noble, Aromet Group's Managing Director, said: "We are putting in place a dedicated European sales team and over the next three years we aim to significantly increase our share of the European tyre repair market.
"Invest NI's support for the new jobs has been essential to allowing us to move ahead with our growth strategy."
Lagan Valley MLA Edwin Poots said: "It is good to see local business prosper and these manufacturing jobs will be warmly welcomed in the Lisburn area. It is particularly beneficial coming against the backdrop of an economic recession when many jobs have been lost and it is companies like Aromet that will help to lead us out of recession and should be supported in doing so."
Lagan Valley DUP Assembly Member Paul Givan welcomed the announcement. He commented, "I welcome this news of job creation in the manufacturing sector in Lisburn which is very positive. At a time when this sector is struggling it is good to see a local company promoting its products and creating more jobs for local people."
Ulster Star
14/09/2012