Maghaberry mum encourages `babywearing'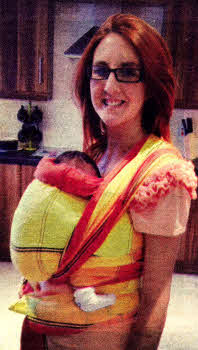 Christine Bracewell Is encouraging parents to embrace 'babywearing' as part of their every day parenting.
MAGHABERRY mummy Christine Bracewell is encouraging parents to embrace 'babywearing' as part of their every day parenting.
Babywearing is the practice of wearing or carrying your baby or child in a sling or other carrier. Christine says there are so many emotional, psychological and practical benefits to carrying your children and she wants other parents to enjoy them too.
Christine explained: 'Babies who are carried tend to have lower stress levels, are happier and contented, cry less and sleep better close to their mums or dads). Parents with more than one child will understand how difficult it can be to juggle playing with toddlers, doing homework, making lunches and nursing a crying, unsettled newborn baby. Or trying to get an infant to settle when dinner needs to be made and washing needs done. This is where babywearing can prove invaluable. The infant can be tucked up safely in the care-givers arms, with babys' needs being met, leaving mum or dad with two free hands to carry on with every day tasks."
Rather than see it as 'spoiling' young children or 'creating a clingy child' Christine thinks babywearing should be seen as another tool in the parental toolbox. An extra pair of hands if you like.
Christine siad: "Babywearing is however a skill. A safe and comfortable skill, that needs to be learnt. And this is where babywearing NI comes in.
"Babywearing NI meet every other Thursday in the Old Meeting House, Railway Street, Lisburn from loam to 12pm. Northern Ireland's only Trageschule UK trained babywearing consultant, Beth Beaney, runs the meetings and is there to assist and advise parents on the best carrier for you and your babies needs and can show you how to safely carry your baby or small child. The meets are fun and informative and Christine would love to see more parents getting involved!."
Christine continued: "Whenever I have my daughter in the wrap, I get lots of people expressing an interest in what I am doing and commenting on how comfortable and happy she is. Babywearing is practised all over the world and has been for many, many years, yet people don't seem to know an awful lot about it, so I wanted to tell everyone about our meets. I have made so many good friends and my husband and I feel babywearing has benefited us as a family greatly since we had our first child six years ago."
Eve Kirkham, who runs Northern Ireland's sling library, attends the meets so parents can hire slings to help parents make sure they are happy with the style of carrier before they purchase one. There are many forms of carrier and Christine feels there is definitely a comfortable one to suit every families lifestyle.
To find out more information about Babywearing NI you can visit the website www.babywearingni.co.uk or you can contact Christine directly by email
chrisy@babywearingni.co.uk. There is also a Facebook page www.facebook.com/babywearingNl and the sling library Facebook page is www.facebook.com/slinglibraryNl . The next meet will be on Thursday October 11 and Christine hopes to see many new faces!!
Ulster Star
05/10/2012