Friendships re-kindled at Ballykeel - Ednagonnell school reunion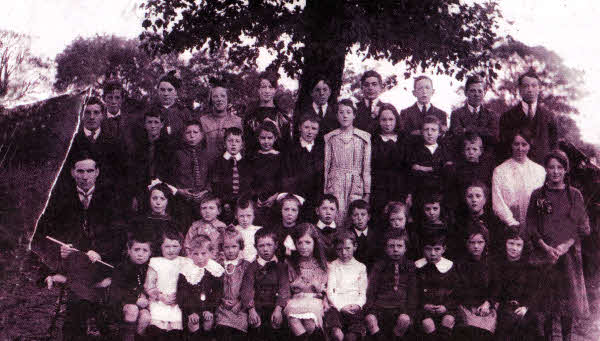 Some of the earliest pupils to attend the school.
ALMOST ninety past pupils, together with spouses and guests attended a reunion of Ballykeel - Ednagonnell School recently in Anahilt Presbyterian Church Hall.
In extending a warm welcome to all present, Ann Truesdale made special mention of past teacher, Mrs Elsie McKnight; also Mrs Christine Wallace and Mr Willie Patterson, daughter and son respectively of past Principals, Mr Hunter and Mr Patterson.
Mary McKeag gave a brief history of the school which served the local community from 1867 until its closure in 1963. In 1910 Anahilt Presbyterian Church replaced the former thatched building with the current building and Principal's Residence. Subscriptions were collected from the neighbouring townlands.
During its lifetime the school was served by nine principals but following closure the Principal's Residence was sold and from 1966 the school building was used as a hall for Anahilt Presbyterian Church for approximately ten years. From the mid seventies the building has been used as a private residence with only minor modifications to the external facade.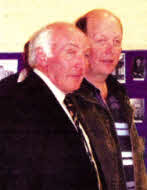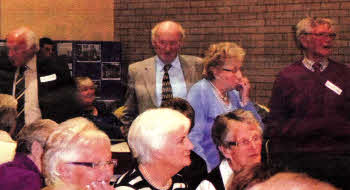 Past pupils as they viewed the displays and shared memories
Maureen Stanfield and Elizabeth Wilson "called the roll" and Laurence Hooke outlined the format for the remainder of the evening.
Much opportunity was afforded for sharing of memories and anecdotes and viewing of photographic displays which had been arranged in triplicate. All photographs were also displayed on a slide show, thanks to the technical prowess of Edgar Brownlee. Many past pupils met with classmates whom they had not seen for decades — in at least one case for over sixty years.
A poem entitled The Wee Place With The Big Name" was written and recited by Mrs Maude Moorhead and encapsulated many of the characteristics of the school.
Mrs McNight who, along with her husband, had taught at the school from 1952 until 1958 shared her memories in a most elegant and eloquent manner.
Following a delicious supper, served by the ladies of the Church, Mr Willie Patterson and some past pupils shared specific memories; some of these had been forwarded from as far away as Australia.
Following a vote of thanks by Laurence Hooke, the evening closed with the singing of "Auld Lang Syne"
Souvenirs of the evening include a copy of Maudes poem and a key ring, both of which include a picture of the school.
Ulster Star
11/05/2012