Battle begins to save stations
by JENNY MONROE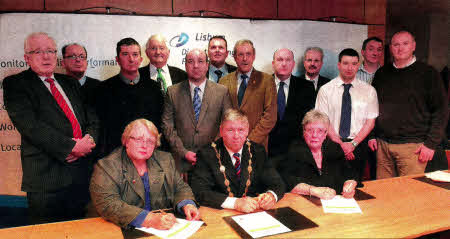 Members of Lisburn District Policing Partnership and Elected Members of Lisburn City Council from the Downshire area of Lisburn launch a campaign to prevent the closure of Hillsborough Police Station.
LISBURN District Policing Partnership has started a petition opposing the closure of Dunmurry and Hillsborough police stations as the PSNI confirmed they are to start a public consultation on the future of the two bases.
The DPP was told at a meeting this week that the consultation would start on January 30 and last for two months. Following that a recommendation will be made to the Assistant Chief Constable on whether they should be retained for operational use or be closed.
Councillor Margaret Tolerton, Chairman of the Lisburn DPP, said public representatives were united in their support for retaining the bases.
"I can state categorically that I am totally opposed to the closure of these stations" she said. "In the case of Dunmurry, which is based in an interface area, there is a current and very real dissident republican threat and the need for a station as a base to enable proactive community policing to be delivered is now more important than ever.
"This police station houses 72 officers who are responsible for policing a very delicate interface area, and progressive strides have been made in terms of co-operation between the community and the police both in Dunmurry village and the Colin area. I do not wish to see this progress compromised in any way would be the Chief Superintendent's intention to move these officers to either Lisburn or Woodbourne Police Stations. This is not acceptable to the DPP."
Talking about Hillsborough Mrs. Tolerton commented: "The District Commander advised that the 25 officers who are based there would be moved to Moira. This is nonsensical given the distance from Moira to the furthest end of the policing sector, which is the rural area of Dromara and its surrounding area. We have already lost our station in Dromara and this would be a further blow.
"Furthermore, Hillsborough hosts numerous visits by the Royal family and other dignitaries, as well as high profile cultural and sporting events, it requires a permanent police presence and operational base. The Elected Members on Lisburn City Council and Lisburn DPP Members will be doing all we can to have both these stations retained.
It is the role of the DPP to organise a public meeting on the issue in order that the views of the community can be presented to the DPP and the police. This is a responsibility that the Lisburn DPP will be taking very seriously, and when the dates for these meetings are confirmed, all residents will be encouraged to attend the meetings and have their views heard on this important issue," she said.
Mrs Tolerton concluded: "We are also going to organise a petition to allow people to show their support for keeping the stations open. This will be available online and in several of the community venues in Hillsborough and Dunmurry, in addition to Lagan Valley Island and Lagan Valley LeisurePlex. Details of these petitions will be available soon."
Policing Board Member, local assembly member Jonathan Craig, said they had got 'clear assurances' that not all 34 stations which are being reviewed' would be closed. He also welcomed a change to the process which will now see a second line of in depth consultation take place before a final decision is made.
Policing Board Chair Brian Rea said they were 'very mindful' of public concerns around the review of stations and had sought assurances from the PSNI that the consultation process will not be 'for consultation sake' but will genuinely take the views of the community on board.
If you wish to help with getting signatures for the petitions you can contact the DPP Manager on 9250 9279. Or if you have any views on this issue you can get in contact, either by phone, or in writing to the Lisburn DPP at Lisburn City Council, Island Civic Centre, 1 The Island, Lisburn, BT27 4RL or by emailing dpp@lisburn.gov.uk.
Ulster Star
20/12/2012