Bear Grylls visits Hillsborough cub scouts

Members of 1st Hillsborough Cubs with adventurer and Chief Scout Bear Grylis.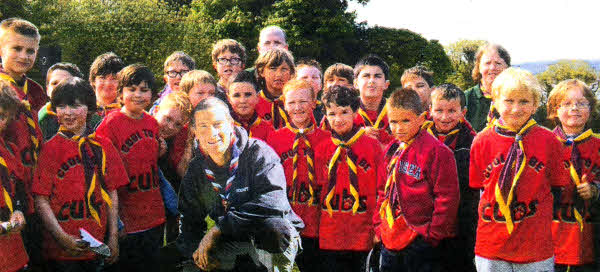 1st Moira Cubs who took part in the 'Bear In The Air' day out and met Bear Grylls, the Chief Scout at Cultra.
CHIEF Scout Bear Grylls took to the air recently to meet almost 4,000 Scouts from Northern Ireland at a series of events in Clandeboye, the Ulster Folk and Transport Museum and Crawfordsburn Scout Centre. Whilst there, Bear and the young people from 1st Hillsborough Cubs Scouts took part in a range of activities including Olympic Games and a charity fundraising fare.
The events were one of a number that Bear visited in Northern Ireland and Scotland over the weekend of May 19. The tour was part of his mission to encourage more adults to volunteer for Scouting, as well as celebrate the important role of Scouting in Northern Ireland and the UK as a whole. The journey comes as part of his plan to visit the whole of the UK during his term as Chief Scout, having previously visited many parts of England.
The weekend's events showed what Scouting is all about, offering thousands of young people the opportunity to take part in adventure in the company of peers and trusted adults. The Scout Association is the largest co-educational youth Movement in the country. Recent figures have shown that membership has passed the 525,000 mark in the UK, with almost 10,000 members in Northern Ireland.
However, the Movement is in desperate need of more adult volunteers to ensure that more young people can join the adventure. Bear Grylls, Chief Scout, said: 'It was great to visit Scouts in Northern Ireland. At every event I go to, I know I'll meet young people taking part in the adventure that Scouting provides. It's crucial though that more adults sign up as volunteers, to ensure that all young people have the opportunity to join."
David Anderson Cub Scout Leader at Hillsborough said: "It was great to have Bear involved last weekend — the young people in my Group got really excited and cant stop talking about it.
Volunteering as a Scout Leader is one of the best things I've ever done: there's nothing more fulfilling than helping young people get the most out life."
Ulster Star
08/06/2012