Junior Belfast Giants go from strength to strength.
"Belfast Giants Vs. Wee Giants" Fundraising Event on Sunday 22nd January, 2012.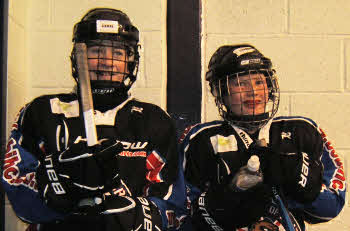 Jamie from Dundonald, and David from Dundalk pictured together at an ice hockey camp last year. They established their friendship a number of years ago when they first met on the ice when they joined the Junior Belfast Giants. They are looking forward to the "Belfast Giants Vs Wee Giants" fundraising event at Dundonald International Ice Bowl on Sunday 22nd January, 2012.
How many of us remember kicking a football against the wall as a child hoping that we would become the next George Best? No matter what your sport at school, there were always those who had dreams and aspirations of reaching the dizzy heights of the game. Some made it, many didn't, but generally an enjoyable time was had by all.
Children in Northern Ireland involved in the relatively young sport of ice hockey are no different. Some aspire to become NHL players across the Atlantic whilst others have set their sights on the UK's Elite League and want to play for home team The Stena Line Belfast Giants.
Local ice-hockey club, Junior Belfast Giants who train at Dundonald International Ice Bowl, cater for all ages groups and currently have 130 registered members ranging in age from 4 to 18. The club emulates the world-wide sport, in that it is has support from all denominations, and there are a number of members who have moved to the province from Europe and North America. The club brings together members from north, south, east and west Belfast. The children involved with this sport have one significant disadvantage though. You won't find another ice rink in the province. Most other sports are well catered for and have facilities the length and breadth of the island. Dedicated members of one team travel to Dundonald, sometimes on a twice weekly basis from their homes situated as far away as Ballymoney, Ballymena and Dundalk. The remainder of that particular team comprises of players from the Greater Belfast area, Ballynahinch, Carryduff, Comber, Dundonald, Hillsborough, Holywood, Lisburn, Newtownards and Saintfield.
With only one ice rink, ice-time is premium, and the club's schedule has to fit in around public skating sessions, figure skating and other ice-based clubs that use the Ice Bowl. It would be difficult finding any other group of teenagers from the ages of twelve to eighteen, keen on turning up for an hour's ice-hockey training commencing on a Friday evening at a quarter past ten. For almost a season and a half the teams have been training on a twice weekly basis and developing their skill base, but they lack game experience. There are no other clubs in Ireland who can put together a range of teams in the under ten to under eighteen age range and so the club has had to seek alternatives.
The club has faced many difficulties over the years, but now under a new management team, headed by Paul Robinson, the problems of the past have been successfully overcome and the club continues to go from strength to strength.
Jamie, a thirteen year old from Dundonald who has been with the club for several years speaks for most club members. "We are getting a lot better and we are looking forward to playing games and playing together as a team."
Jamie plays for the under 14 team. They are due to travel to Scotland at the end of January to play their first game against the Kilmarnock Lightning under 14 team. They are currently placed at midway position within the Scottish Under 14 league so it will be a good opportunity for the team, coaches and managers to see if the months of hard work will pay off. There has been a noticeable buzz of excitement within the club now a series of games for all age groups has been secured with Kilmarnock over the next few months.
The club has also entered its first tournament with Hockey UK 2012 and the teams travel across to Kircaldy, Scotland in April and May to compete against other teams from all over the UK.
Not every child will have the opportunity to rub shoulders with his or her sporting hero during their time in their chosen sport, but that is not a familiar story in the world of ice-hockey. The junior members of the team have the opportunity of performing mascot duties when The Stena Line Belfast Giants play home games in the Odyssey in Belfast. The Juniors experience what it is like to skate in front of a large crowd and they often have the opportunity to have a look at what goes on behind the scenes.
This year the club has organised what has become an annual event in the club's calendar at Dundonald International Ice Bowl - "Belfast Giants v Wee Giants." All age groups will play matches alongside members of The Stena Line Belfast Giants in what has proved ,during the past two seasons, to be a popular event with the club's family members, friends and Giant's supporters. This year The Stena Line Belfast Giants have donated as first prize in the club draw, a fourteen seat box in the Odyssey arena for their forthcoming match against Fife on Saturday 18th February. The three other prizes include an Indesit washing machine donated by Indesit Company UK Ltd., a Dell Inspiron 14z laptop donated by Dell, and one year's full membership to Curves Castlereagh donated by Debbie Robinson. The event takes place on Sunday 22nd January 2012 and the first face-off takes place at 5.30pm. The club invites you to come along and join them in what promises to be an evening of fun and action. Tickets to the event are priced at £10 per family of 4 and £3 for individuals and can be obtained at the door.
It is hoped that this fundraising venture will raise the much needed funds to secure the future of the Junior Belfast Giants club, and providing these young players with an environment where they can further develop in their chosen sport and perhaps someday realise their dreams of becoming professional ice-hockey players.
In the words of the late Herb Brooks, a former ice-hockey player and coach to the team who secured the United States' victory against the Soviet Union in the 1980 Winter Olympics: "Great moments are born from great opportunities!!"
For further information on Junior Belfast Giants at www.juniorbelfastgiants.com
17/01/2012