Local ladies climb Ben Nevis for Marie Curie
by STACEY HEAHEY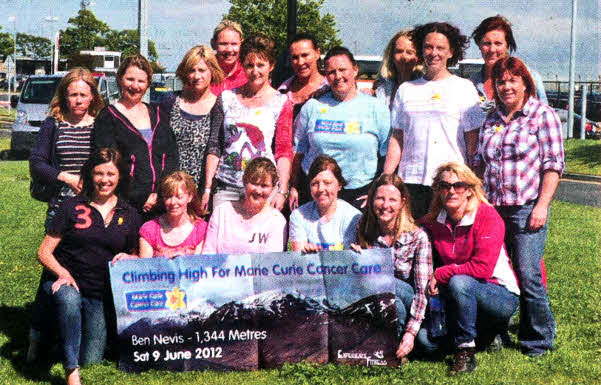 The ladies who climbed Ben Nevis in aid of Marie Curie Cancer Care.
A GROUP of 17 ladies recently climbed high for charity, trekking 1334 metres to reach the UK's highest point, Ben Nevis, in aid of Marie Curie Cancer Care.
The ladies, who hail from Lisburn, Moira, Lurgan and Craigavon successfully scaled the Scottish peak on Saturday June 9.
The team, who are all members of a gym in Lurgan, decided to take on the challenge at the start of this year, not only as a fitness goal for 2012 but also to support and raise funds for a cancer charity as the ladies had friends and family who had been touched by the disease.
Since organising the trek independently in January, they have embarked on a flurry of fundraising activities in the last six months from table quizzes, tea parties, face painting and spinathons to raffle draws, bag packing and shop collections, all to raise funds for Marie Curie Cancer Care, not to mention numerous training hikes in the Mourne Mountains in preparation for the big event.
Allyson Morrow, team coordinator for the climb commented, "It really was quite a challenge as most of the girls had never been hill walking before so not only had we to train hard but we had to fit this in around work, family life and fundraising activities, not easy for a group of 17 women.
However, the team rallied together, supporting each other and having fun along the way for a very worthwhile cause. "
Allyson continued, "There were lots of mixed emotions during the actual climb as many of the girls had lost friends and family to cancer with some of their nearest and dearest still currently battling with the disease. Once we reached the summit of Ben Nevis, a real sense of achievement was felt by all, especially as we had completed the climb, up and down in eight hours.
"So far we have already given Marie Curie Cancer Care £3,000 through our fundraising activities but as much more money is still to be counted and collected, a substantial cheque is still to be handed over to the charity at the end of June. A big thank you to all our friends, families, supporters, training guides and sponsors for helping to make 'Ben Nevis - Climbing High for Marie Curie Cancer Care' possible."
The local ladies who climbed Ben Nevis are: Sinead Scannell from Glenavy, Gillian Tate from Moira, Amanda Grehan from Lisburn, Susan McCleary from Moira and Kath Massey from Moira.
stacey.heaney@ulsterstar.co.uk
Ulster Star
15/06/2012