Beth to get the best seats in the house at Palace Jubilee concert
by MARY MAGEE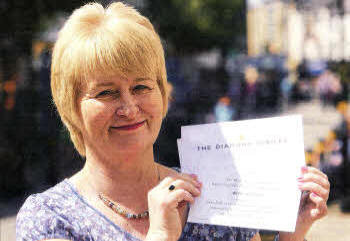 Beth with her tickets for the concert. US2112 -117A0
OUR very own Beth Megarry - receptionist with the Ulster Star - will be in the very centre of the party of the year after getting an invitation to the Garden Party and Queen's Jubilee Concert at Buckingham Palace on June 4.
She will be joined with sister Angela McDowell after both applied for the VIP tickets months ago. Their invites came by post last Thursday but they managed to keep it a secret after getting an e-mail in March telling them they had been chosen out of thousands of applicants.
It was Angela's idea to apply for the tickets and she suggested Beth try her luck as well. The keen Royalists, who travelled to London to see the Royal Wedding last year, had already booked to go to London over the Jubilee weekend and thought it would be an added bonus if they got to the Garden Party and concert. They will travel on Saturday and once they get to the garden party at Buckingham Palace will then be given VIP seats to the concert which will be televised live at 7.30pm. Unfortunately their spouses, who applied unsuccessfully for tickets, will only be watching the free concert from a different area of the arena.
"I just cannot believe we got tickets," said Beth. "It is a once in a lifetime opportunity and we're really looking forward to it.
Ulster Star
01/06/2012