Beverley honoured for going the extra mile
by JULIE-ANN SPENCE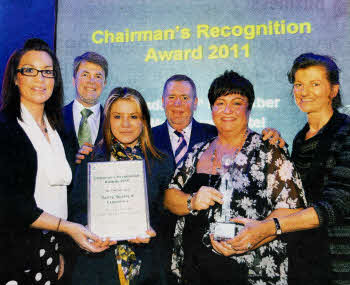 Edel Morgan (Deputy Manager Flaxfield), Hugh McCaughey (Chief Executive SE Trust), resident, Colm McKenna (Chairman), Beverley Wright and Sandra Pollock
BEVERLEY Wright is not just a cook at Flaxfield Children's Home in Lisburn. She is a friend, a confidante, a teacher, a guide and a mother to the all of the children who pass through its doors.
Her contribution to the local home over the past five years has not gone unnoticed and she was recently recognised by the South Eastern Trust when she was awarded the 'Chairman's Challenge Award' for staff who have gone the extra mile.
A hundred people were considered for the award but it was Beverley who shone through to bring the prestigious award to Lisburn.
Beverley, who previously worked for 15 years running the catering facilities at the Health Centre in Lisburn, was asked to help out at Flaxfield after the Trust struggled to find a cook. That was five years ago and she has never looked back.
However, Beverley is much more than just a cook. "I try to make this as positive an experience as I can," she explained.
Beverley has organised a host of theme nights, parties and outings for the children at Flaxfield, including a royal wedding garden party last year to celebrate the wedding of William and Kate and a huge Christmas party for residents, both past and present. She has also been encouraging the children to learn about healthy eating and together they have planted a vegetable garden.
"I started a greenhouse a few years back," she explained. "I thought it would be good to learn where food comes from and how we grow it."
Beverley is an avid fan of the theatre and is always keen to share her passion with the children. "I try to give them experiences," she continued. "One of my big things is the theatre. We have been to see musicals and ballet. It was amazing. They might not have experienced that if I didn't organise it."
As part of her award Beverley was given prize money, which she is planning to use to treat both staff and children at Flaxfield.
"I am going to use half of the money to bring the staff to the Civic Centre fdr something to eat and then to see a magician," she explained. "The other half will be used to take the kids to see Grease at the Grand Opera House."
Beverley admitted that on the day she received her award she was very emotional. As part of the ceremony, a video, shot at Flaxfield with the children talking about just how much Beverley means to them, was screened. "It was quite emotional," she said. "It is not often you hear what other people think of you. I am not just made to feel like the cook, I am made to feel like part of the team. We are like a big family.
"What makes Flaxfield special are the kids and the staff who go the extra mile," she concluded.
julieann.spence@ulsterstar.co.uk
Ulster Star
03/02/2012