Young "BME" group meets Mayor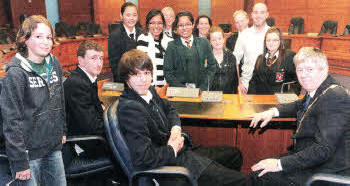 The Mayor of Lisburn, Councillor Brian Heading recently met with young people from local Black and Minority Ethnic communities at Lagan Valley Island. Also pictured (back I-r) are: Mr Stephen Malcolm, the Council's Equality Officer; Ms Monika Lubasinska; Mr David Mitchell, the Council's Good Relations Officer and Mr Rónán McHugh, SEELB Lisburn BME Area Worker.
A GROUP of young individuals from Black and Minority Ethnic (BME) communities in Lisburn met with the Mayor recently as part of the Council's Good Relations Programme.
These young people delivered presentations on their participation in the South Eastern Education and Library Board's `Youth Education Social Inclusion Partnership Programme', which received PEACE III funding.
The Mayor of Lisburn, Councillor Brian Heading, speaking about the group, said: "It was a pleasure to meet the young people who came to Lagan Valley Island as representatives of the BME communities within Lisburn. I enjoyed hearing how through training on this programme they developed leadership, communication and interpersonal skills. Such skills proved to be beneficial when they had to undertake research and develop plans to become more involved in youth organisations and the wider Lisburn society They embraced the opportunity to help change the current situation and I must commend both the participants and the SEELB for working to help BME individuals feel part of Lisburn's society. Cross-community work across all nationalities is very important to provide an inclusive society for all," he concluded.
The goals of the project are to raise the capacity of Lisburn's new citizens to take
on civic responsibilities and create a more welcoming community by offering anti racism training to 'indigenous' workers and young people.
By raising awareness of the issues faced by young people from BME groups it is hoped that the community based youth provision can take steps to ensure that no one is consciously or unconsciously excluded.
Lisburn City Council welcomes programmes such as this BME project and is keen to support such initiatives through its Good Relations Programme, which receives financial support from the Office of the First Minister and Deputy First Minister.
Ulster Star
13/04/2012