Wallace pupils amazing fundraiser in memory of Briagh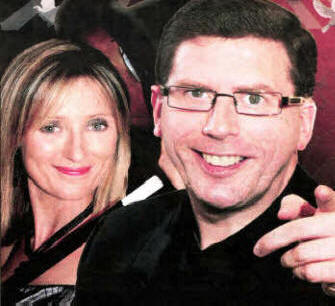 Paul Ormonde McCabe with his assistant Lisa Whltcroft
OVER twenty years after their first sponsored reading event to raise funds for the Northern Ireland Cancer Fund for Children in memory of pupil who passed away in his GCSE year, Wallace High School has raised a superb £6,053.39 in memory of another pupil - 13-year old Briagh Hull.
Read on organiser Heather Gracey said: "Briagh was an inspiration to us. During our last Read on she was a Year 8 student and despite her illness she managed to be the top fundraiser in Year 8. We, as a school family, are proud to donate this money in her name and in her memory".
Year 10 students made a magnificent contribution to the school's overall total and also designed and sold bracelets in memory of their former classmate and friend who sadly died last June from a rare brain tumour.
Briagh received the Generosity of Spirit Award from the Richard Wallace Trust for her selfless acts and she and another pupil had been selected to present a cheque to the NI Cancer Fund for Children.
The teaching staff also got involved to support the fund by holding "hug in a mug", an event best described as calorie laden. Teachers, both male and female, donned their aprons, got out their mixing bowls and produced an array of mouth-watering treats for others to eat. The event raised £270 and generated lots of recipe swapping, promises to repeat the event next year and a new title for Biology teacher Dr Liam Halferty .King of the Cupcake!
A special assembly will be held soon to hand over the cheque and to give NICFC's representative an opportunity to outline plans for new facilities at the charity's holiday home and residential facilities in Newcastle.
There will be another fundraiser at the school next week when magician Paul Ormonde McCabe will perform his illusion show with the proceeds divided equally between the Northern Ireland Cancer Fund for Children and The Briagh Hull Memorial Fund. At the show, on Saturday 17th March, long time member of the Magic Circle Paul will be partnered on stage by Lisa Whitcroft to perform a wide range of tricks and illusions including Houdini's classic escape, Metamorphosis, Zig Zag (where a lady will be sawed in three), the Levante Sword Cabinet and the Chung Ling Soo headchopper when a member of the audience can take part.
Tickets cost £6 or £20 for a family ticket can be purchased from the school. It is hoped sponsorship of the event will maximise the benefits for the charities.
The school raised, from 14 Read-on events, just short of £90,000. Gillian Creevy who heads the charity's work described Wallace pupils as "inspiring".
Ulster Star
09/03/2012