Harry Potter books and Ugg boots help BHF make £50,000
by MARY MAGEE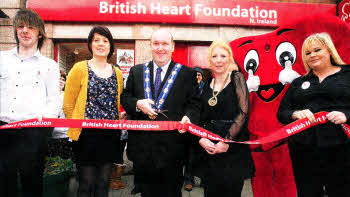 Then Deputy Mayor Councillor William Leathem with Heart Foundation Shop Bow Street staff Lawrence Morrison, Danielle Morris Assistant Manager, Samantha Robinson Manager, Mascot Hearty and Ashlene Baizell at the opening of the shop in March. US1212127A0
LOCAL bargain hunters buying the first editions of Harry Potter or Ugg boots have helped British Heart Foundation raise an amazing £50,000 in its first 100 days of trading at their new Bow Street store.
BHF, who have been based in Lisburn for some years, opened its doors on in the new premises on March 20 to help local people pick up a bargain and transform their wardrobe as well as raising money for the charity.
Last year BHF shops raised over £31 million to help the group fight heart disease - the nation's single biggest killer.
BHF shops across the United Kingdom sell 90,000 items everyday, have over 20,000 volunteers and have 700 shops, including 10 in Northern Ireland. Heart charity BHF is dedicated to saving lives through pioneering research, patient care, campaigning for change and by providing vital information. They still need more help and rely on donations of time and money to continue their lifesaving work.
The new BHF shop in Lisburn is one of a kind, having been completely transformed.
Speaking about the first 100 days, BHF Northern Ireland Lisburn Shop Manager Samantha Robinson said: "Since opening our doors on the March 20, local people have been visiting our newly transformed shop, making fantastic donations including Ugg Boots and first editions of Harry Potter.
"We love the things you bring, so why not make room for your new purchases, by donating your unwanted items from a summer wardrobe clean out," she said.
"Wed like to say thank you to our volunteers for making our first 100 days such a success.
"Volunteers such as Priscilla McFarland play a vital role. Priscilla has been supporting her local heart charity for over eight years and loves coming in to interact with local people as well as making a difference. "Our Shop needs volunteers like Priscilla - it's a great way to meet new friends, as well as help in the fight against heart disease."
To arrange a free collection or to find out more about how you can support the BHF Northern Ireland Lisburn Shop contact the shop directly on 9267 0793.
Ulster Star
06/07/2012