`Little star' Caitlin receives award after cancer battle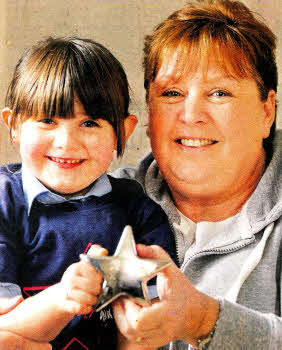 Caitlin Finley, age 4, from Belsize Road, who received the Ulster Cancer Foundation's Little Star award after being nominated by next door neighbour Lynn Johnston. US0212.529cd
LISBURN girl Caitlin Finley has been declared a 'little star', having been announced as the first recipient of the Cancer Research UK Little Star Awards.
Four-year-old Caitlin, a Primary One pupil at St Josephs PS, is the picture of health these days, but it was a different scenario just a few years ago when the one-year-old faced a terrible ordeal when she was diagnosed with liver cancer.
Caitlin had to have three quarters of her liver removed, as doctors operated on a tumour the size of a grapefruit. However, the local girl survived her ordeal and has so inspired a fellow cancer sufferer, her grandmother Ann McKillion's neighbour, that she was nominated for the special award.
Ann said: "My next door neighbour, Mrs Lynn Johnston nominated Caitlin because she's in and out of my house all the time and she inspired Lynn. Lynn had cancer herself and she said when she sees Caitlin it just brightens her up."
Caitlin received a special trophy, a teddy bear, T-shirt and a certificate signed byand a host of celebrities including Leona Lewis and Harry Potter star Rupert Grint.
I am proud as punch of Caitlin," said Ann. "Especially with all she has been through."
Caitlin's mum Laura, 29, vividly recalls the terrifying day she was told to bring her daughter straight to the Royal Children's Hospital.
Laura explained: It was her first birthday in March and in April we went on holiday to the Canaries for a week and had a great time. We came home on the Saturday and on the Monday I noticed that Caitlin's stomach was swollen on one side. I rang my GP who told me to bring her straight in and when he saw her, he arranged for us to go straight to the Royal. It was just terrible, just such a shock. She had been having problems with constipation and I thought it was something to do with that. It never even entered my head that it could be cancer."
Blood and ultrasound tests were carried out on Caitlin and Laura was then told to go hoby andd pack a bag for herself and Caitlin and return to the hospital the next day.
"They didn't tell me what was wrong and we went home really worried," Laura continued. "I was thinking all sorts and my family were trying to reassure me everything would be okay."
Following biopsy results the next day, Laura was stunned to be told her daughter had a tumour on
her liver and would need chemotherapy followed by a major operation to remove it. "I just started crying. I was terrified," said Laura."She was so tiny that they couldn't get veins to take blood and had to do it through her head and I don't know who cried more, me or Caitlin. It was just awful. It really opened my eyes seeing all of the children in the hospital, it was just heartbreaking."
The one-year-old underwent three months of chemotherapy which meant having regular stays in hospital, something Laura found difficult as it meant a long separation from her other daughter Morgan, who was then three-years-old and is now a seven-year-old, Primary Three pupil at St Joseph's. The family then had to travel to Birmingham Children's Hospital where little Caitlin underwent nine and a half hours of surgery when the tumour and three quarters of her liver were removed.
Laura said: "It only hit me when we went to Birmingham how serious it was and how sick she was. They told us we should go into town during surgery to take our minds off things but I couldn't leave the hospital. "I wanted to be close to her. It was the longest, most awful day. When she came out of surgery she had so many wires and monitors attached to every part of her that you could hardly see her wee body. It was terrible to see her and not be able to do anything for her, only console her. I was afraid to move in case I hurt her as she had wires even coming out of her wee neck. She was just so comfortable and I was glad to have her near me and be able to comfort her."
Caitlin made a remarkable recovery from her surgery and was able to return home after 10 days. She then faced another three months of chemotherapy to kill off any cancerous cells which might have remained after the operation. Laura was told that Caitlin's liver would regenerate itself and by the time she is an adult it will be fully grown again. Following her chemo, the local girl then had to attend hospital every week for six months, then every other week for a year and then twice monthly. Her next check up will take place next month and will continue every six months until she is seven.
Laura continued: "She is a fantastic child and took it all in her stride. She is a very happy girl and really bubbly. She started St Joseph's Primary in September and just loves school."
Speaking about Caitlin's 'little star' award, Laura said: "I was delighted, I wasn't expecting it at all. Caitlin would cheer Lynn up every time she went into her house, so Lynn had told me she was nominating Caitlin, but I didn't think any more of it.
"When Caitlin got her award she thought it was fantastic, running about with her teddy bear and her wee star.
"She was also a star in the Christmas play and we had just bought her star costume so she thought she was great. Lynn presented her with her award and told her what it was for, she didn't know half of what was going on but she was excited."
Laura added: She's just doing so well and hopefully will continue that way."
Ulster Star
20/01/2012