Caitlin shines at Little Star awards party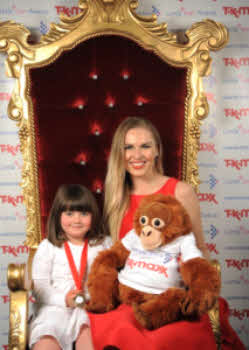 Caitlin Finley aged five meets TV Presenter and former Blue Peter host Zoe Salmon at the Little Star Awards party.
A COURAGEOUS young girl from Lisburn, who has just recently finished treatment for cancer, played a starring role at a special party held to salute the courage of all children coping with the illness.
Five-year-old Caitlin Finley was a guest of honour at the Little Star Awards party, held by Cancer Research UK and TK Maxx last Saturday at ZSL London Zoo.
The youngster met a host of celebrities including soul singing sensation Lemar, TV presenters and former Blue Peter hosts Zoe Salmon and Konnie Huq, actor and TV presenter Joe Swash, Lydia Bright and Debbie Douglas from The Only Way is Essex, Joelle Moses from BBC's The Voice, and ex-EastEnders star Cheryl Fergison (who played Heather TAU). And during the party she got to pet Liam and Ru - two of the zoos Meerkats - as well as Honey the Kinkajou.
The party was organised by Cancer Research UK to help raise awareness of the charity's groundbreaking work in the field of childhood cancer research.
Caitlin, who was just one year old when she was diagnosed with liver cancer, was one of 21 children from across the UK who came together as 'ambassadors' to represent the 390 children who received Little Star Awards in 2011/12.
She celebrated her first birthday in March 2007, just prior to a family holiday in the Canaries. A few 2007, after they returned from the holiday, Caitlin's mum noticed a swelling on one side of her stomach and medical tests revealed the shocking news that she had liver cancer.
After three months of chemotherapy the family travelled to Birmingham Children's Hospital where Caitlin underwent a nine and a half hour operation to remove a tumour the size of a grapefruit and three-quarters of her liver.
Amazingly Caitlin made a remarkable recovery and was able to go home after 10 days. She then had another three months of chemotherapy to kill off any stray cells. Caitlin's liver should regenerate itself and by the time she is an adult it should be full size. She is continuing to do well and has just started school.
Caitlin's mum said: "We really enjoyed the event and Caitlin was thrilled to meet Zoe Salmon."
Every week a child is diagnosed with cancer in Northern Ireland and 1,550 are diagnosed across
the UK. .
Jo Murphy, Head of Corporate Social Responsibility at TK Maxx, said: "Thousands more people are alive today thanks to Cancer Research UK's work on children's cancer. We've supported the charity since 2004 and are very pleased to be supporting the Little Star Awards again this year."
Cancer Research UK has helped to transform the outlook for children with cancer — today almost three quarters of children are cured, compared with around a quarter in the 1960s. The charity's work is wide-ranging, from investigating the causes of childhood cancer and finding new ways to diagnose it, to developing better and kinder treatments.
For more information or to make a donation please visit www.cancerresearchuk.org/littlestar or text 'STAR58 £5' to 70070 to donate £5 from your phone bill. Text donations are free from any network and 100% of the donation will go to Cancer Research UK.
Ulster Star
01/06/2012