Minister steps in to protect historic canal house in Lisburn
by STACEY HEANEY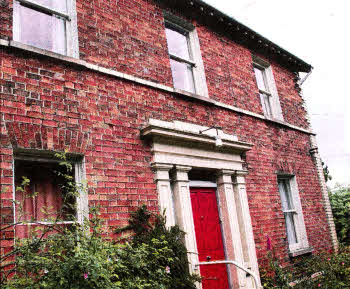 Navigation House in Lisburn
ENVIRONMENT Minister Alex Attwood has stepped in to protect Navigation House, a historic manager's house associated with the Lagan Canal in Lisburn.
The Minister has put a Building Preservation Notice on the house, beside the Union Locks at Blaris, the only flight of four locks in Ireland.
Navigation House was brought to the attention of the Department by Lisburn City Councils Planning Committee who asked for a planning application involving the demolition of the building to be deferred pending consideration of its historic interest.
The building is thought to have been built in the 1860s for the manager of the canal.
Mr Attwood said: "I have decided to issue this notice to protect this fine building for a period of six months. This will give my Department time to carry out detailed research and consultation to determine if the house should be the subject of permanent listing as an historic building.
"We have to look forward and we must plan for our future. But we must also not ignore what has shaped us. Our built heritage provides a tangible connection to our past and we should protect its best features for future generations. Built Heritage also plays an integral part in our tourism industry and this is why I have acted."
Building Preservation Notices were introduced in 2003 to protect historic buildings which are in danger of demolition or major alteration for a period of up to six months as a listed building.
Navigation House is a Victorian house in red brick with yellow brick trims and original sliding sash windows. It has a portico style door surround with tall narrow sidelights flanked in columns to each side and stone steps at its entrance. Its roof is in natural slate with exposed rafters. It is set in a secluded mature landscaped garden which leads from a small gated entrance screen on Hillsborough Road via a small avenue.
The building is located near to the Union Locks off the Blaris Road, which are protected as a scheduled monument and to a listed former lock keeper's cottage.
stacey.heaney@ulsterstar.co.uk
Ulster Star
22/06/2012