Lisburn woman says get the kettle on and help kids with cancer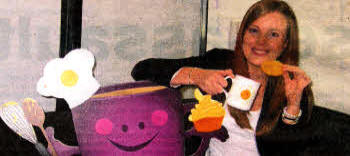 NI Cancer Fund for Children's Natasha Walsh, from Lisburn, is urging people to sign up to the charity's Hug in a Mug coffee morning.
NORTHERN Ireland Cancer Fund for Children (NICFC) is launching its Hug in a Mug coffee morning campaign on November 2 to raise money for these local children and their families.
The charity works hard to provide practical, emotional and financial support but it needs help from the public in order to continue this vital work. Having a cup of tea or coffee might be something you do every day, why not ensure your next cup makes a difference? Get everyone together in the workplace or at home and get the kettle on for NICFC's Hug in a Mug 2012.
NICFC's Natasha Walsh, from Lisburn, said the campaign is a great way to give a "metaphorical hug" to the hundreds of children across the province living with cancer.
'Most people love to get together with their colleagues, family and friends for a nice cuppa and a catch-up. For some parents and children living with cancer this isn't possible as they have to stay indoors and away from other people due to the high risk of infection.
"By doing something as ordinary as holding a coffee morning and getting everyone to donate as much as they can you are actually doing something amazing — you are helping to raise funds for children with cancer and their families," Natasha said.
Money raised from Hug in a Mug will go towards services such as providing respite accommodation for families, ward support and youth programmes. For those with a sweet tooth who can't resist a biscuit or a bun with their cuppa, NICFC has just launched a Hug in a Mug recipe book. The book which features recipes from some of the country's top chefs as well as budding bakers can be bought at Spar and Vivoxtra stores and has lots of ideas for yummy treats.
For more information or to sign up to Hug in a Mug 2012, contact Amanda on 028 9080 5599 or email Amanda@nicfc.com. Alternatively text HUG to 88080. Texts cost standard network rate. Text STOP to 88080 to opt out. Further info can be obtained from the NICFC Facebook page and website: www.nicfc.com.
Ulster Star
19/10/2012