Maghaberry turns purple in memory of Caroline
by JENNY MONRO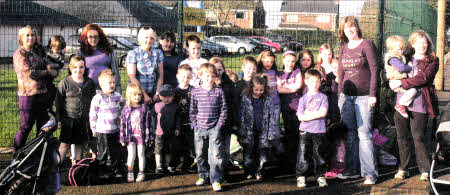 Maghaberry mums showed their support during the purple event in he village which raised £550. L to R - Nicola Dick, Chrisy Bracewell, Kristine Hill, Sarah Law and Joanne Brown.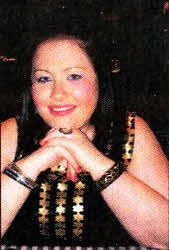 Caroline Humpherson
MAGHABERRY village turned purple for the day last Monday in memory of a young woman who passed away in January following an epileptic fit.
Friends and family of Caroline Humpherson, who died at the age of 23 in her Maghaberry Manor home, decided to try and raise awareness of the condition by supporting Purple Day, an international grassroots effort dedicated to increasing awareness about epilepsy worldwide. Each year on March 26 people in countries around the world are invited to wear purple and host events in support of epilepsy awareness.
Both children from Maghaberry Primary School and adults in the area wore items of purple clothing to show their support.
Caroline's mother Jayne Humpherson said she and her husband Mervin were touched by the number of people who got involved.
She said: "It's been a tough three months - we are all devastated and our world has changed but it means so much that the people of Maghaberry have been so kind and generous in this difficult time."
"Caroline was well known and the turn out at her funeral said it all. Her death has affected so many people and to see friends and family coming together like this to raise awareness about epilepsy is overwhelming."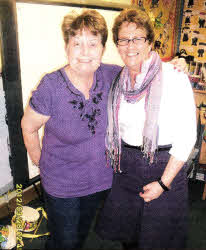 Maghaberry Primary 1 Classroom Assistant Mrs. Beckett and Primary 1 teacher Mrs. Clarke supported the purple event.
Jayne explained that on the night of her death Caroline had been excited about setting up her new Wii games console after she had got home from working at Dobbies.
"We had collected her as she wasn't allowed to drive and she was in great form. She had her tea and was setting up her Wii and then went to the bath. We were in the house and I always listened out to make sure she was ok. She had a seizure when she was getting out of the bath but she didn't die from drowning" the devastated mother stressed.
Jayne continued: "Caroline had her first seizure at the age of 8 but she didn't let it hold her back and she went to university and then got a full time job."
Caroline had a 10 year gap when she was at school without any seizures but they started again at 17 and continued until her death - the last one had been two weeks before she died," Jayne explained.
Jayne, who has two sons Kristopher and Robert and a young grandson Corey, said that as well as friends raising awareness about epilepsy a memorial tree is to be planted in the grounds of Maghaberry Primary where Caroline was once a pupil.
As well as this Jayne and Mervin have donated a cup to Maghaberry GB called the Caroline Humpherson Endeavour cup, which will be presented this Friday night at the GB display and the local Slimming World consultant Jill Ellis is planning walks in memory of Caroline later this year.
Jayne said; "I'd just like to say a big thank you to my family, friends and the people of Maghaberry for all the support we have been given - it means a lot.".
Ulster Star
30/03/2012