Family and friends raise £9000 in memory of 'a brilliant girl'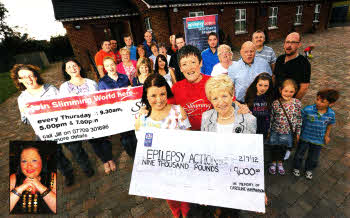 Morina Clarke from Epilepsy Action NI with Jill Ellis (Slimming World Consultant), Kerry Huddleston and Caroline's family and friends at the cheque presentation. INSET Caroline Humpherson. US27800JC
A GROUP of local slimmers have raised £9000 for Epilepsy Action (NI) in memory of Caroline Humpherson, a member of the group who passed away suddenly at the beginning of the year.
Jill Ellis, Slimming World consultant of the Moira group, organises annual walks and this year decided to raise money from the Slieve Donard Challenge in memory of Caroline, 23, who had epilepsy died in January.
The group wanted to do something special in her memory alongside her family and friends and in preparation for the challenge the walkers met and walked the Broad Water at Moira before tackling Cavehill. The biggest challenge - Northern Ireland's highest mountain Slieve Donard - took place on Saturday May 26.
Jill said: "Climbing Slieve Donard is no easy task and needs a lot of planning and preparation. Many of the members of my group felt a great sense of achievement on completing the climb. "Along with their personal achievement helping to raise so much money for a great cause was an extra goal to work towards.
"Caroline was a bright and bubbly young woman and was the life and soul of any occasion. At group she was always full of fun and chat and I know she would be very impressed with the effort made at the climb. A total of 67 people did the climb, many of them Mends, family and work colleagues of Caroline, the support was outstanding and we all had a great day. "
Mervin Humpherson, Caroline's dad, did the climb and her mum Jayne had refreshments waiting for everyone at the end of the challenge. They both found the event very moving and they were overwhelmed by the effort made in memory of Caroline.
Mervin said: Jayne and I and Caroline's brothers are just amazed at the support for this challenge in memory of Caroline, it makes us very proud to think she was so well thought of by in many people.
"We are delighted with the money raised for Epilepsy Action (NI) in Caroline's memory, we know every penny will be used to support Epilepsy sufferers."
He added: "The climb was tough but well worth the effort and everyone helped each other to get to the top and wearily back down, it was a really hot day and the scenery from high up in the Mourns was beautiful. We would really like to thank everyone who took part in the challenge at any level, by doing the climb, coming to Newcastle to encourage us on our way and greeting us on our return, raising money and remembering our beautiful daughter, we very much appreciate the support."
Morina Clarke from Epilepsy Action collected the cheque form the fundraisers. She said:' We are delighted with funds raised by all the people here in memory of Caroline. Any support that we get is very much appreciated and all the money is used locally in support of those with Epilepsy.
"We understand how difficult a time it has been for everyone involved, especially Caroline's family. They have given amazing support to our charity, I want to thank them, the Slimming World group in Moira and all the family and friends who have raised so much money for us."
The cheque was presented to Morina by Kerry Huddleson, who said: Caroline was my best friend. She was the big sister I never had, our mums are best friends and we spent a lot of time together. I miss her so much and just wanted to be part of a celebration of Caroline's life.
The climb was really challenging but my reason for doing it helped me through. I am very proud to present this cheque to Epilepsy Action (NI) in memory of Caroline, a brilliant girl and my best friend."
Ulster Star
06/07/2012