Years from now, in a gallery far far away
a very special mural will be re-discovered
bY JULIE-ANN SPENCE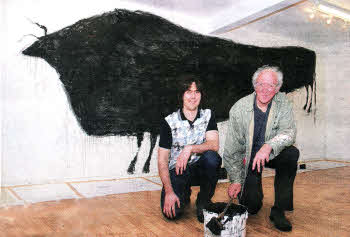 Andy Lyttle, Castle Gallery (left) and artist, Neil Shawcross with the finished painting, entitled 'The Bull'.
ANDY Lyttle, the owner of Castle Gallery in Lisburn has come up with a novel way of celebrating the 10th anniversary of his popular art gallery— he has arranged for one of Ireland's leading artists Neil Shawcross to paint a work of art directly onto a feature wall in the Castle Street premises before being sealed up as part of a planned time capsule.
"The painting will be on display for viewing throughout March and then it will be sealed behind a new false feature wall with documentation of newspaper editorials and photographs of Neil painting the artwork," explained Andy.
"The painting will then remain there until it is rediscovered some time in the future. I'm really excited to be part of such an incredible project. If this painting isn't discovered again for 70 or 80 years it's the equivalent of finding a 25ft Sir John Lavery or William Conor today." Andy said the unique idea came about after he and Neil had been talking one day.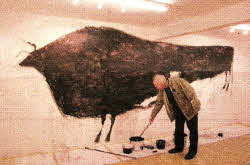 Neil adding the legs.
"He told me about another wall mural he had exhibited at another venue which was lost forever as it was simply painted over when the exhibition ended," explained Andy. "Neil has been very generous and supportive to me over the last ten years and I have always been searching for something I could give Neil in return, so I offered him the feature wall in the Gallery
"He liked the idea and the rest is history or will be when the painting is eventually rediscovered."
The work of art depicts a bull and covers an area approximately 25ft x 8ft. "It's undoubtedly the most impressive impact piece the Gallery has ever shown and possibly ever will,' added Andy. "A painting of this size by Neil Shawcross would commercially be worth £20-30,000."
Neil said he was delighted to be playing his part in the Gallery's anniversary celebrations.
"Because of the shape of the wall I felt the bull was an ideal image," he said. "It also goes back to the cave paintings too, going almost full circle if you like. And the bull has got such power - hopefully I have got something of that recorded here."
In conjunction with Neil's painting, Castle Gallery has launched a website where you can view images of Neil at various stages painting the Gallery Wall. Visit www.castlegalleryni.com click on Artists then scroll down to Neil Shawcross Time Capsule.
julieann.spence@ulsterstar.co.uk
Ulster Star
24/02/2012