The mystery of the Castle Toilet Club
by MARY MAGEE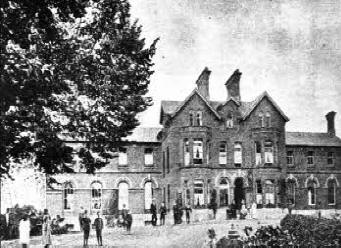 The Ulster Provincial School which appeared in the booklet.
A BOOKLET giving a remarkable insight into life in Lisburn over a century ago has turned up.
A Concise History of Lisburn and Neighbourhood', which was kindly left into the Star office by a Mr Patterson from Portadown, was produced to mark the building of the Largymore new National School and the holding of the Mayflower Fair and Bazaar in Lisburn in May 1906.
Its pages tell the history of Lisburn or Lisnagarvoch - which is said to take the name of the fort of the gamester - a circular rath situated on the north side of the Wallace Park which was then owned by Mr JE Sloan.
This poem was used in the book
Where Lagan winds adown the vale,
With crystal waters calmly flowing.
Through grassy mead and leafy dale,
With wild flowers sweet in beauty blowing,
Here Lisnagarvey takes her seat,
With sturdy sons and lovely daughters.
The river twining round her feet
Reflects her beauty in its waters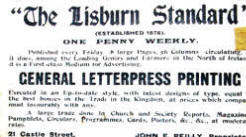 But perhaps the greatest insight comes in the advertisements which were included.
The Star's predecessor, The Lisburn Standard, was able to boast 'eight large pages and 56 columns.
"Circulating as it does among the leading Gentry and Farmers of the North of Ireland", proprietor John E Reilly said it was 'a first class medium for advertising'.
Petticrew Brothers, watchmakers and jewellers of 21 Bow Street, told readers: "Our five guinea (£5.25p) English lever (watch) cannot be equalled for high finish and accuracy of performance". To put that in context, the average wage in Ireland in 1906 was just over £1 a week.
But the most intriguing ad is for Gallagher's Castle Toilet Club, which was situated four doors from Alexander Boyd's on the corner of Railway Street.
The advert promises 'fresh towels, fresh water and fresh soap for every customer'. Then it adds, 'Best workmanship combined with cleanliness and punctuality guaranteed.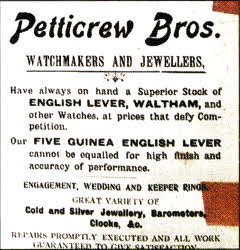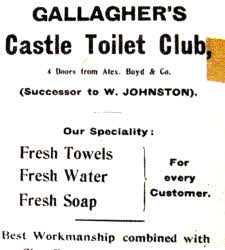 Can any reader help enlighten us on what this was? Contact us at 92-679111, write to Ulster Star, 12A Bow Street, Lisburn BT27 1BN or email news@ulsterstar.co.uk
Ulster Star
27/01/2012