Weather girl Cecilia brings sunshine to school opening
St Joseph's Primary School principal Maria Gough with Cecilia Daly opening the school's new foyer. US2112.102A0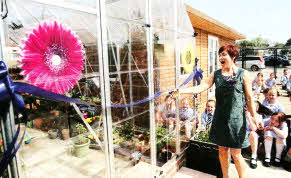 Cecilia Daly opens the new greenhouse at St. Joseph's Primary School. US2112.104A0
WEATHER girl Cecelia Daly helped bring out the sunshine when she officially opened the £500,000 refurbishment work at St Joseph's Primary School last week.
There were claps and cheers for the former pupil who cut the ribbon as she joined staff, pupils and guests from CCMS, DENI, SEELB and friends and families of the school.
The project, which has taken a decade to complete, included a new foyer, state of the art disabled facilities, storage, outdoor play areas, new Pl classroom, new mobile classroom with toilets, a cabin for after school child care, a parents' cabin, a new car-park and a greenhouse.
Principal Maria Gough said they were delighted with the facilities which she described as the next best thing to a new building.
"In the current economic climate thanks to the stewardship of The Sacred Heart of Mary order who ran the school up to 2000 and the refurbishment since then, we have the next best thing to a new building," she said.
The foyer has transformed the school and the staff, parents, children and parents feel the warmth of the welcome as they enter the new automatic doors."
In her speech she used the Olympic values of inspiration, courage, friendship, excellence, determination and respect to show how together architects, engineers, builders, volunteers, parents, staff and children achieved so much over the past ten years.
The school was the home of the convent school built in 1901 and in 1964 the current school replaced the convent, admitted boys and was renamed St. Joseph's PS.
Miss Eileen Cooley, Chairperson of The Board of Governors, spoke of an older school brought to the 21st century thanks to the vision, creativity and determination of so many people.
In times when finding money to build new schools has become increasingly more difficult, it has been very important to maintain and develop the building and its grounds" she said.
"Today you will see us proudly show off some of the additions which make St. Joseph's a unique community based school. We can confidently say that this is a school at the heart of the community with the community at its heart," she concluded.
Mrs. Gough thanked those involved in the building and also paid tribute to the PTA who, she said, work tirelessly at fund raising and have provided so many of the extras which enhance the school environment.
Ulster Star
01/06/2012