Mayor rolls up his sleeves to help launch charity car wash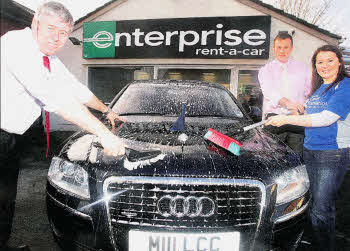 Pictured rolling up their sleeves for a charity car wash with Enterprise Rent-A-Car, based at Young Street Lisburn, which will take place on Saturday 4th February, is the Mayor, ClIr Brian Heading; Ms. Rosie Hassin from the Ulster Cancer Foundation and Mr Michael Irwin, Enterprise Rent-A-Car.
CAR owners from Lisburn and beyond are invited to a hose-down for a good cause next Saturday.
For just £4 your car will be returned to you bonnet buffed and 'wheely' sparkly-clean with all proceeds in support of the Ulster Cancer Foundation.
The fundraiser is being held at Enterprise's Office at 2 Young Street, Lisburn on 4th February and Michael Irwin from Enterprise Rent-A-Car explained: "We have the ideal location and facilities to facilitate the Car Wash event, and an enthusiastic group of volunteers from our branch network throughout Northern Ireland to make it a success.'
Rosie Hassin, Community Fundraising Officer with UCF said: "We understand that there is little that causes as much anxiety and stress as a diagnosis of cancer. There are currently 55,000 families in Northern Ireland living with cancer and around 10,700 people are newly diagnosed each year. Our role is to make that time of extreme stress a little more bearable by providing a range of care services for cancer patients.
We hope that lots of people will take part in this special event and help support our work and raise funds for UCE All funds raised for UCF are spent locally and help support people with cancer in Northern Ireland.
Lisburn Mayor, Councillor Brian Heading, rolled up his sleeves to help launch the event and is encouraging local people to support this good cause.
I would like to wish Michael all the very best of luck in his charitable endeavours and hope that his event is well supported," said Mr Heading.
It is always pleasing to see local businessmen doing their bit to contribute to such worthwhile charities."
For further information on the 'Enterprise rent-a-car "wheely' charity Car Wash' contact Rosie Hassin at UCF on 9068 0759 or email rosiehassin@ulstercancer.org.
julieann.spence@ulsterstar.co.uk
Ulster Star
27/01/2012