Two from one school receive Children of Courage awards
by MARY MAGEE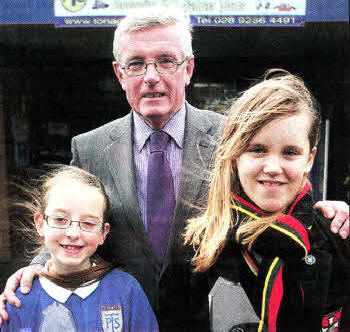 Tonagh Primary School pupil Brianne Ridge and former pupil Shania Burton receive Pupils of Courage Awards from Stanton Sloan Chief Executive SEELB. US5011-103A0
THERE was double delight for Tonagh Primary School recently when two special pupils received a Children of Courage award from the Chief Executive of South Eastern Education Board Stanton Sloan.
He presented the crystal ornament to Brianne Ridge (10) and ex-pupil Shania Burton (12) who now attends Lisnagarvey High School. Both were nominated by classroom teachers and the acting principal Mrs. Alison Stevenson.
Pupils at Tonagh Primary had only ever received the award once before so it was remarkable that two children this year associated with the school received the award.
Brianne, who is now in P6 has been a type one diabetic since she was four and as well as that suffers from celiac disease - an intolerance to wheat.
Despite her dietary requirements and challenges she still works well at school.
"We just felt she was a worthy winner because we see how well she copes with her illnesses and dietary complications and still coping well with school work is remarkable," said Mrs. Stevenson.
Shania too has also has to overcome personal difficulties. As well as working hard at school she has taken on the role as a carer to her mother who suffers some health issues.
Shania was in P6 when she lost both her father and grandfather within just six weeks of each other.
"Shania is always smiling and nothing seems to get her down" said Mrs. Stevenson. "She is such a pleasure to teach. She achieves so well despite all the difficulties. She has had a lot of personal tragedies to deal with and then takes on helping her mum. Yet she always stays positive and copes well regardless.
"I know that these awards are not given out lightly so we are delighted that our two pupils were chosen and recognised for this award. They are both very worthy winners."
Ulster Star
23/03/2012