Community Circus Christmas cabaret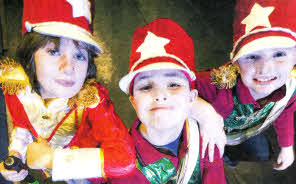 L-R: Jack Knox and John and Louis Maguire from Community Circus Lisburn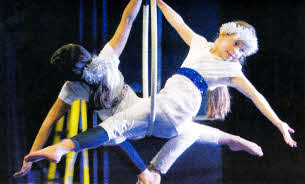 Kayla Grimley and Rahemma Javed from Community Circus Lisburn
COMMUNITY Circus Lisburn recently held its colourful production of Christmas Cabaret.
Based in the Island Arts Centre, Community Circus is one of Northern Ireland's premier youth circus groups, offering young people aged between 8 and 16 the opportunity to learn a wide range of acrobatic and performance skills.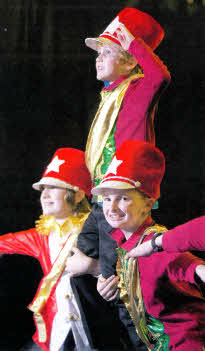 L-R: Jack Knox, Louis Maguire and Ben Priestly, (on top) from Community Circus Lisburn
Community Circus Lisburn received £6,690 from the Arts Council's Small Grants Programme towards the tuition of Circus Skills learning for its members. Over the last two months professional choreographers and circus tutors together with 48 young people, including those with disabilities and from disadvantaged backgrounds, have had the opportunity to develop artistic skills and
self-confidence; improve motor skills and enhance their social skills.
The Arts Council's Small Grants Programme Officer, Edel Murphy said: "This year Community Circus Lisburn used the Small Grants Programme award to provide a lively programme for young people in the area; this Christmas event will showcase all of their hard work The young people are learning acrobatics and performance skills from some of our best local circus artists — these young people undoubtedly represent the emerging artists of our future."
Paul Quate, Project Manager, Community Circus Lisburn, said: "The young people should be commended for all of their hard work over recent months. Amongst current members of Community Circus there are participants with ADHD, Aspegers, Down's syndrome, OCD, dyslexia and hearing difficulties. Their involvement in Christmas Cabaret has reaped positive results.
"Participating in a group show is one of the most effective ways to motivate young people; not only have they refined specific circus skills, they have also developed teamwork, communication, planning, organization and leadership skills — all in a fun way!"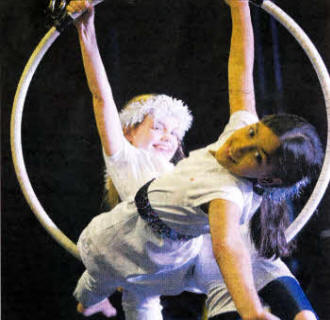 Kayla Grimley and Rahemma laved from Community Circus Lisburn,
Among the attendees were the Mayor of Lisburn, Councillor Brian Heading, Deputy Mayor, Alderman William Leathem, members of the Lisburn Arts Advisory Committee and the Director of the Leisure Services, Lisburn City Council along with many friends and family.
The Community Arts Officer from Island Arts Centre commented: "Lisburn is terribly proud of having our very own Circus School. We are the only city in Northern Ireland outside of Belfast to have one."
Community Circus Lisburn is a vibrant group of young Circus performers all from the Lisburn area who meet every Tuesday to learn Juggling, Stilt Walking, Diabolo and other exotic and unusual skills. Last year they started learning Trapeze and this term they have added a new skill of Chair Balancing to their repertoire.
CCL meets every Tuesday night at the Island Arts Centre and are open to new members in January 2012. Membership is open to young people aged 8 and over. For more information, or an application form, please contact Community Arts Officer, Tanya Kirk, on 028 92 509509 or email louise@island.lisburn.gov.uk.
Ulster Star
06/01/2012