Family welcomes new inquest into schoolboy's death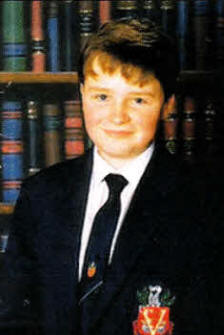 Christopher Coulter who passed away in 1994
THE family of a Hillsborough schoolboy who died 10 days after receiving the combined measles and rubella (MR) vaccine 18 years ago have welcomed the news that a second inquest has been ordered into the death of their son.
Christopher Coulter was 15 years old when he was found dead in bed a week before Christmas 1994.
The original inquest the next year found Christopher died from asphyxiation due to a severe epileptic fit.
However, Christopher's parents Anne and Harry said there was no history of epilepsy in the family and they believed the vaccine, which has now been replaced by the MMR (measles, mumps and rubella) vaccine played a part. That view was reinforced when they heard about another boy at Christopher's school who had also had a seizure after getting the vaccine but survived.
The Attorney General for Northern Ireland John Larkin QC has now issued a directive to the senior coroner to hold a second inquest and said the case was of "enormous public importance".
The Coulter family had submitted new evidence from an American consultant paediatric neurologist to the attorney general in support of their request for a new inquest.
Speaking on behalf of the Coulter family their solicitor Padraig O Muirigh said the reason for Christopher's death was a matter of public interest.
"The Coulter family welcome the decision of the Attorney-General to direct a fresh inquest into the death of Christopher," he said.
'An application was made by our office under section 14 of the Coroner Act 1959 to the Attorney-General to re-open the inquest in light of the report of Dr. Marcel Kinsbourne, a vaccination expert, into the circumstances of the death of Christopher. "His findings were that 'on the balance of probabilities' Christopher's seizure and death were caused by the MR vaccine. In addition, he concluded that there was 'no medically reasonable evidence of an alternative causation, explained Mr O Muirigh.
He added: "The original inquest into the death of Christopher, which took place in 1995, relied on the findings of the original pathologist who excluded the role of the MR vaccine. The Coulter family believe that these findings were reached without the body of scientific literature that was available to Dr Kinsbourne."
Ulster Star
17/02/2012