Local children look forward to Cinemagic 2012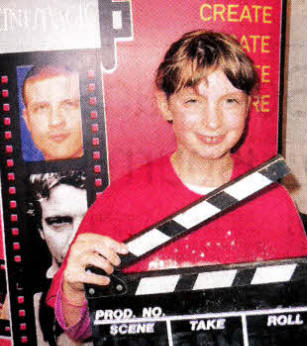 Cinemagic Young Film Consultant, Alice Martin, from Lisburn, who reviewed a selection of the films at the festival during
ST COLMAN'S Primary School pupil Alice Martin, who spent the summer reviewing films for Cinemagic, is looking forward to the first of two festival taking place this autumn.
Cinemagic, the International Film and Television Festival for Young People, recently launched the first of two festivals taking place this autumn with the unveiling of its fantasy, myths and legends themed programme for under 12s.
The action packed Cinemagic programme for young people aged under 12, funded by Northern- Ireland Screen supported by DCAL, will take place from October 5-19 with new film previews from around the world, film classics, film and television workshops for schools and families, and filmmaking competitions to motivate, educate and inspire young people. A programme for 12-25 year olds will follow in November and the festival season will culminate with a gala awards ceremony in Belfast City Hall.
The Cinemagic October film programme in Odeon Cinemas will open with Moon Man, the latest feature from Academy Award Nominated Animation Studio, Cartoon Saloon, adapted from worldwide best-seller by Tomi Ungerer. Must-see special previews include heart-warming
Disneynature's Chimpanzee, magical Disney adventure Tinkerbell And The Secret of The Wings and the enchanting story of The Odd Life of Timothy Green, from Academy Award nominated director/writer Peter Hedges, will bring the festival to a close.
As well as film screenings, there will also be family film workshops and workshops for primary and nursery schools.
Local young people are also being invited to join the Cinemagic October Festival Jury. The jury is open to young people aged 8-11, who are passionate about film watching and reviewing.
Jury members will announce the winning festival films at the Gala Awards Ceremony in Belfast City Hall on November 29. Email claire@cinemagic.org.uk to register for a place on the jury panel.
Cinemagic is looking for short films made by local young people under 12. All film genres are eligible - fact or fiction, comedy or drama, news programme or documentary and the film should be under 10 minutes long. The theme 'Giants of Northern Ireland' is a new category that filmmakers can enter this year, for example, films about 'Giant Achievers' and 'Giant Famous People' from Northern Ireland or 'Giant Iconic Landmarks' of Northern Ireland. Email chris@cinemagic.org.uk to enter before October 26.
To view the Cinemagic Festival Programme online visit www.cinemagic.org.uk.
Ulster Star
28/09/2012