Circuit Power Stage to make it a rally good Easter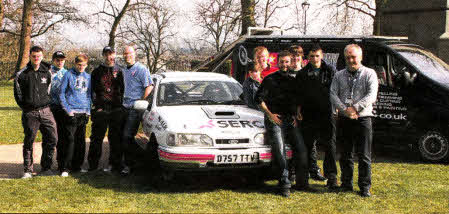 South Eastern Regional College's (SERC) Motorsports Engineering students with the rally car they helped build, pictured in Castle Gardens ahead of Saturdays Circuit of Ireland Rally.
THIS Saturday, April 7 Lisburn welcomes back the adrenalin filled International Circuit of Ireland Rally with its exciting Power Stage as well as a Family Fun day in Castle Gardens from 12-4pm.
On Tuesday nine times Ulster Motorcycle Trials Champion Andy Perry visited students from the South Eastern Regional College's (SERC) Motorsports Engineering course at Castle Gardens where he will be performing with Trial Star motorcycle on Saturday between 12-4pm.
SERC's rally car, which the Motorsports Engineering students helped build and prepare for competitions, will also be on display in Castle Gardens on April 7 when everyone is being invited to go along and find out more.
Other activities in Castle Gardens include arts and crafts workshops, Children's Fun Fair amusements and inflatables, Easter hunt, chocolate give-aways, entertainers, face painters and balloon modellers.
The soundtrack to the day will be provided by four amazing bands: Silhouette, Payola, Jukebox Jurors and Pretty Cartel.
For the motorsport enthusiast, SERC offer a Three Level Diploma in Motorsport Engineering. This two year course, which is equivalent to three A levels, involves developing skills such as vehicle and engine preparation and engineering design. Further information is available online at www.serc.ac.uk.
For more about events in Lisburn visit www.visitlisburn.com or call 92660038
Ulster Star
06/05/2012