Lisburn photographer takes international prize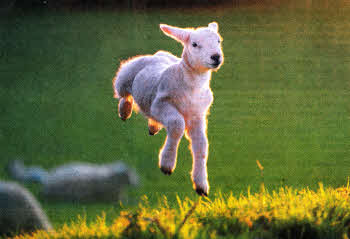 The photograph of a lamb taken by local photographer Cliff Donaldson, which scooped the top prize at the recent 'Star Prize for Photography'
A PICTURE taken by Ulster Star photographer Cliff Donaldson has scooped the top prize in an international photography competition — the first time the award has come to Northern Ireland.
The competition, which aims to promote excellence in pictures featuring agriculture or rural life that have been taken for newspapers and magazines around the world, attracted a total of 81 entries from more than 30 countries.
Judges included Pulitzer Prizewinning photographer Mary Chind of the USA.
When the winners were announced at the weekend in Stockholm, Sweden, Cliff Donaldson's picture emerged as the winner of the main award — the Star Prize for Photography. Another of his pictures, taken on a hill farm in Antrim, received a "distinguished recognition" award.
Although the competition, which has been running annually for more than 20 years, regularly attracts local entries from Northern Ireland, this is the first time a photographer front here has won the top award.
Cliff's winning picture was of a young lamb playfully leaping in the air in a field near Dromara. He said: "I was visiting my aunt's house when I noticed the lambs jumping around in a field at her back garden. I crept across the garden to get a better view without frightening the lambs away and then lay face down on the ground to take a picture.
"I pressed the shutter when I saw it jump up and kick its heels in the air." Cliff found out he had won the award when he received a text message from Sweden, where the competition took place.
Many of the entries in the star photography awards, organised by the International Federation of Agricultural Journalists, are taken in countries such as the USA, Africa, Australia and various European countries where big blue skies and sweeping vistas lead to some dramatic images. In many cases some of these pictures feature in leading glossy magazines and other publications around the world.
"Yes, I found it difficult to believe that a picture of a lamb taken in a field in County Down could possibly compete," said Cliff.
It was a big surprise to get the text message from Sweden where the results were being announced.
"I had actually forgotten all about the competition, but naturally was over the moon when I heard the results. I had a smile on my face for the rest of the evening!"
Ulster Star
24/08/2012