Codie family call for tougher laws on animal cruelty
by JENNY MONROE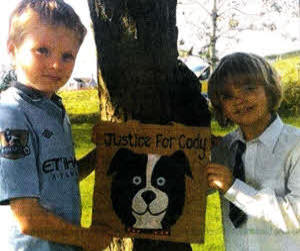 The Agnew brothers Justin and Jake with a bag made by Karen Houston in memory of their beloved pet dog Codie who had to be put to sleep following horrific injuries after being set alight.
THE Maghaberry family who had to make the decision to put Codie the dog down after she was set on fire, have called on the public to sign a petition calling for tougher sentences for people found guilty of animal cruelty
Martin Agnew says his family has been left traumatised by the cruel attack on their pet and has called for those who supported Codie to get behind a petition that would see more people behind bars for such crimes. "If we all sign the petition we could really make a difference," he explained.
Two people have been bailed over the attack, which left Codie with burns beyond repair.
The three-year-old collie dog, was doused with flammable liquid and set on fire last month.
Codie suffered serious injuries and was put to sleep on Saturday night.
Her owners posted on the Justice for Codie the dog Facebook page on Sunday that she had been getting worse from last Friday and the vets had tried everything they could.
"We are all gutted, but we know she was suffering and was only going to get even worse," the statement said.
Two people, arrested in connection with the attack, have been released on police bail pending further inquiries. A police investigation is continuing.
Lisburn PSNI described the news as "tragic" on their Facebook page and said: "We would like to remind everyone that police are dealing with the matter, and two people have already been arrested.
"All evidence takes an amount of time to process, and when the investigation is complete the matter will be forwarded to the PPS.
We would appeal for calm."
Speaking about the news that Codie had been put to sleep the Mayor of Lisburn, Alderman William Leathem said: "Like so many other people I was deeply saddened by the news at the weekend that Codie was put to sleep, especially since many of us had assumed that the collie was gradually making progress.
To commit such a horrifying crime against a loving family pet is despicable and I hope those responsible are brought to justice. Codie captured the hearts of people throughout Northern Ireland and my thoughts are with Mr and Mrs Agnew and their young family at this distressing time."
SDLP Lisburn City Councillor, Pat Carney also expressed his sadness about Codie. He said: "I would like to say how sorry I am to the family who owned Codie and have lost her in such a cruel and vicious attack.
"Cruelty to animals is a cowardly act and should not be tolerated. The people that carried out this brutal assault on an innocent animal should be held to account for their mindless actions.
"I am aware that a police investigation into this matter is on-going and I hope that those responsible can be brought to justice in due course."
Alderman Allan Ewart expressed his regret too. He said: "I trust the police will vigorously pursue this case and make sure those involved in this terrible crime will feel the full rigour of the law. People who commit such a crime on a defenceless animal should be taken from society and be made to suffer prison. It shows a total lack of compassion, I was pleased that so many people were outraged at this attack. My thoughts are with the Agnew family."
For more information about the petition please visit:
https://epetitions.direct.gov.uk/petitions/34522
Ulster Star
14/09/2012