JOBS BLOW AS COKE LOOKS TO AXE 90 POSTS
Meetings planned as shock announcement stuns workers
by MARY MAGEE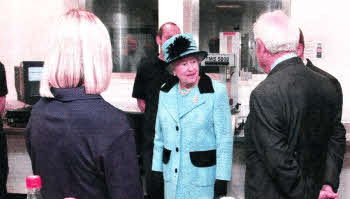 The Queen touring the Coca Cola plant at Knockmore hill In October 2010
TRADE unions say they are stunned that Coca Cola, one of the largest employers in Lisburn, has announced the possible loss of up to 90 jobs so soon after moving to their newly established £93m plant at Knockmore Hill.
The news has also shocked local politicians who fought hard to keep the jobs in Lisburn after the company closed its plants in Lambeg and north Dublin in favour of one site for the whole of Ireland.
It is understood the jobs losses would affect mostly production, engineering and distribution.
A spokesperson for Coca Cola said they will be using a third-party distribution company, and hoped that some employees may transfer to that company. They said the company has begun a 30
day consultation with staff and unions and would also meet with politicians in the coming days.
"The 90 jobs are that are under threat are not necessarily confined to Lisburn," she said. "We employ people from across Northern Ireland."
But Unite officials, who were due to meet with management on Thursday, said the news had come totally out of the blue. The union's Regional Industrial Organiser Sean McKeever said: "Workers have been left in total shock.
"What we don't understand is how Coca-Cola, who are one of the major sponsors of the Olympics and one of the largest employers in Lisburn, could have announced this so soon after the huge investment and apparent commitment put into this company.
'It was less than two years ago that the Queen officially opened the Visitors' Centre yet now there are 90 jobs on the line.
"We will do everything that we can to mitigate any job losses in relation to our members. At this stage we have been given little information and a 30 day consultation is clearly not enough."
A bolt out of the blue'
Lagan Valley MP Jeffrey Donaldson, who played a major role in persuading the company to build its all island plant in Lisburn, said he had already spoken with management and would be joining MLAs and meet senior management to discuss the situation.
"It is important that those facing redundancy are offered alternative employment if possible" he said.
Councillor Stephen Martin said the loss of the jobs would have a 'hugely detrimental impact on Lisburn.
"This news has come as a bolt out of the blue," he said. "Coca-Cola has always been viewed in Lisburn as one of our leading employers having taken a very active role in the community.
The news that the company is to undergo a major restructuring exercise is yet a further example of the impact of the global economic situation on our local economy. The conventional wisdom has been that we can produce and manufacture our way out of the recession but here we stand on the verge of losing a huge number of established jobs with one such key employer.
"We have got to look at ways in which we can work with Coca-Cola to lessen the impact of these job losses.
"The 30-day consultation period within the company, while a commercial decision, gives no real time to allow for alternative solutions to be worked out or for staff to come to terms for the changes that lie ahead. The impact on staff cannot be overestimated.
"What is important now is that those impacted by the decision are given all the support they need."
The Mayor, Alderman William Leathem, described it as a 'very bitter blow' for the workers.
This news is extremely disappointing and we are deeply concerned about any proposals to outsource work," he said. "Our immediate thoughts are with those workers and their families and we will do everything we can to support them. We would urge Coca Cola to reconsider and ensure that local jobs are protected."
The chairman of the Council's Economic Development Committee, Alderman Jim Dillon, said the Council was now seeking an urgent meeting with the company to clarify the situation and to discuss how compulsory redundancies could be avoided or minimised.
Any potential redundancy is very bad news and the Council hopes that an alternative solution can be found. The Council would be keen to work with Coca Cola HBC, its workers and all relevant agencies to look at viable alternatives, to try and accommodate workers and equip them with important information and support through this very difficult time," he said.
DUP MIA Edwin Poots said his party's local assembly members and the MP would be meeting the company's management next week.
"We want to see if the die is cast on the 90 jobs" he said. "They're obviously not doing away with the work so will the relocated jobs be in the Lisburn area?
"We also want to know if workers will be able to transfer on the same terms and conditions."
MLA Paul Givan said a lot of hard work had gone into ensuring the plant remained in Lisburn. He said he hoped that in the end any job losses would be less than the 90 being looked at.
From what I have gathered the company are restructuring their business across Northern Ireland and the job losses will have an impact across the province not necessarily just in Lisburn" he said.
Councillor Pat Catney also spoke of his disappointment at the news.
"Lisburn has been the operational hub for Coca -Cola for more than two decades and they have invested a lot in our local community," he said.
It is therefore extremely disappointing that they are experiencing difficulties and are considering making posts redundant. "Given the huge impact this could have on employees at the p t, their families and our local economy, i vital that all avenues are explored to avoid the axing of people's jobs."
Alderman Allan Ewart , who is chairman of Lisburn City Centre management, said the news would cause real worry to all Coca-Cola employees.
I will be urging Coca-Cola to do everything in their power to ensure job losses and the impact on its workforce is minimal when I, along with a Council delegation, meet with them to discuss the current situation on Thursday" he said.
At the time the scheme got the go ahead in 2006 Coca Cola said it had looked at over 60 locations across Ireland before settling on Lisburn.
Ulster Star
03/08/2012