Local man's shock as liner sinks just weeks after voyage
by STACEY HEANEY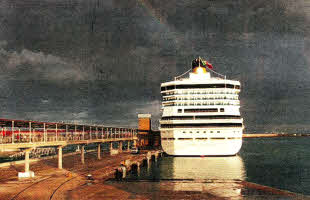 Costa Concordia at Barcelona.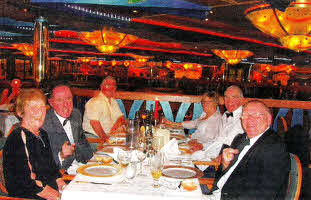 At dinner on the Costa Concordia. Lisburn man Billy Magee, centre left, Sam Hewitt, centre right.
A LISBURN man has spoken of his shock and horror after the sinking of the cruise liner Costa Concordia in Italy earlier this month - just weeks after he travelled aboard the vessel.
Local businessman Billy Magee travelled on the ship along the same route and with the same captain Francesco Schettino, who is now under house arrest in Italy, when he went on a Mediterranean cruise in November with two pals.
As divers continue to search the wreckage of the £400 million vessel, 16 people have been confirmed dead, whilst another 16 remain missing.
Billy, a regular cruise-goer, said he was shocked as he watched footage of the stricken liner the morning after it struck rocks close to the picturesque Italian island of Giglio - on Friday January 13.
It was an awful shock," said Billy. "To see that magnificent ship dying on its side like a beached whale and to think of the people killed shook us all to the core.
"I saw it on the news when I woke up on the Saturday morning," he said. "My first thought was 'Oh my goodness, I was only on a cruise a few weeks ago.' Then I saw the yellow funnel and all Costa liners have a yellow funnel, it's very distinctive so I thought, 'My God, that's a Costa cruise, I wonder which one?' When I realised it was the Costa Concordia, I thought, 'My goodness.'
"The television doesn't do it justice, that ship is gigantic. If you went the length of Antrim Street and right under the railway bridge it would be longer than that."
Billy, who runs his family business Mortgage Choice in Antrim Street, usually travels with his wife Irene, however, aboard the Concordia he was with friends Sam Hewitt, who lives in Belfast and Jim Lynch from Ballymena. The trip had been organised to help Sam following the death of his wife last April.
The local man said the trio "had a great time" and described the luxury aboard the liner, with the ultimate spa treatments and a theatre even grander than the Grand Opera House. The cruising veteran said the vessel was "comparable" with any cruise ship he has travelled on.
However, Billy said he did have concerns about the ship's safety procedure.
"One thing I noticed about the ship was that we never had a lifeboat drill. That is the first cruise I have ever been on when there hasn't been a drill, they generally have it before you set sail," he said. "They didn't even tell you where your muster station was, the only thing they did was give you a red card that said "emergency' on it.
"We travelled along the same route, with the same captain. When he was in his white uniform he looked the part. He seemed to be a bit of a ladies' man. To me it was simply captain error, he should never have sailed off course.
"We went the same route, leaving from the port of Civitavecchia, the port nearest Rome, from which the liner had just sailed onto the rocks, and up to Savona, a town at the top of Italy. I have no idea if we went close to ground, it was dark and we were having our evening meal, nobody knows.
"We came across the captain twice during our seven days at sea - when he spoke at his special Captain's Night and from the stage of the theatre. It's hard to believe that they're now likely to charge him with manslaughter after the liner hit the rocks. It beggars belief."
The disaster has also led Billy to wonder about the crew member's who were aboard during his voyage.
"We had a great wee cabin stewardess, and we wonder whether she was among the casualties. We hope not. There was a guy who played the violin every night, he was fantastic, such a talented guy. I heard he went down to get his violin from his cabin and was drowned."
The 114,000 ton ship was carrying more than 4,000 passengers and crew, and whilst Billy says he would not be put off from travelling on a cruise in the future, he has often wondered just how thousands of people can safely disembark in a case of emergency.
"I was on a Royal Caribbean cruise last year that had 9,000 people aboard. There is no way you could get 9,000 people off safely if panic set in."
Billy added: "I've always thought this, life jackets are kept in cabins and there are maybe 15 or 16 floors. If your cabin is on floor two or three and the lifts are out and the lights go out, they expect you to go to your cabin when you couldn't see a thing in front of you. There is a wide spectrum of people on cruises, some young, but there are many elderly, who find it difficult to go up and down stairs, in a panic people would run all over them."
Billy concluded: "We watched just about every news programme in total awe, hardly able to believe what had happened. It doesn't half bring it home to you when you've been on the very same boat a month or so before it perished. It's incredible."
stacey.heaney@ulsterstar.co.uk
Ulster Star
27/01/2012