Councillors `impressed by Downe Hospital's 24 hour service
by JULIE-ANN SPENCE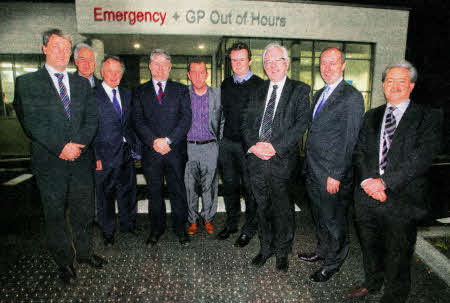 Left to right: Hugh McCaughey, Chief Executive, South Eastern Trust; Adrian Donaldson, Director of Corporate Services, Lisburn City Council; Cllr Brian Bloomfield; Cllr Brian Heading, Mayor; Cllr Arder Carson; Cllr Stephen Martin, Chairman of the Corporate Services committee; Alderman Allan Ewart; Seamus McGoran, Director of Hospital Services, SE Trust; Charlie Martyn, Medical Director. SE Trust.
COUNCILLORS from Lisburn who made a late night visit to the Emergency Department at the Downe Hospital to study the overnight urgent care arrangements which have proved successful in keeping the front door of the hospital open 24 hours a day say they were impressed by what they saw.
The model, which was introduced last April, is based on limited opening hours for the Emergency Department together with an enhanced GP Out of Hours service, which is co-located in the hospital. Councillors heard the Emergency Department opens from 8am-10pm, 365 days a year, then at 10pm the enhanced GP Out of Hours service takes over with the ability to admit patients directly into the hospital.
Protocols agreed with the Northern Ireland Ambulance Service ensure that seriously ill patients who need to be treated in a major hospital go directly to that hospital.
Councillors were told that the Trust has been able to recruit sufficient doctors to make the service safe and sustainable.
The Trust is currently finalising options for the future of Lagan Valley Hospital which will be presented to the Trust Board at the end of January before going out to consultation. The preferred option is similar to the Downe model, but details including opening hours and the availability of doctors still have to be finalised. Director of Hospital Services, Seamus McGoran said: "A model like this would enable the vast majority of patients at Lagan Valley to continue having their treatment there."
Chairman of Lisburn Council's Corporate Services Committee, Councillor Stephen Martin said: Our all party working group was impressed during the visit to the hospital and the presentation by the Trust's Senior Management Team and by what we witnessed in the Department," said Mr Martin.
"This service, which potentially could be used as a model to be built upon at the Lagan Valley Hospital, does appear to be providing a very valuable service, enabling the majority of patients to be treated within their local hospital," he added.
Julieann.spence@ulsterstar.co.uk
Ulster Star
20/01/2012