Fruit and veg shop pulls down the shutters after 42 years
By Eddie Mcllwaine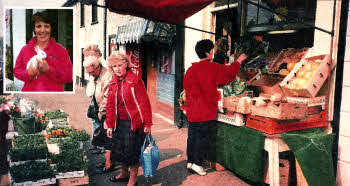 Shoppers at Lavery's in the late 80s and, inset, Karen Lavery
CRUMLIN: The tears definitely flowed in Crumlin when one of the best known shops in the village closed down after 42 years.
It was the family run fruit and veg establishment opened in 1970 by the late Patrick T. Lavery and until last week with his daughter, Karen, in charge.
Joining in Karen — and her widowed mum Sheila's - sadness were Joan McGivern who worked with Patrick for 38 years in the shop and Jane Harkness who served behind the counter for 16 years.
And present day helpers to Karen - Dianne Allen and Nicola McLoughlin - had their hankies out too. .
But Lavery's, at No 97 at one end of Main Street, wasn't forced to put up the shutters because of the financial crisis or dwindling sales of spuds, carrots and oranges and apples and all the other delicacies from the soil we love to get our teeth into.
You see, a year and a bit ago, at No 20, animal lover Karen opened Petz Zone.
And both shops were flourishing," Miss L explains, "but I was burning myself out keeping the two of them running even with the help of my girls behind the counter Dianne and Nicola.
"The truth is that family fruit and veg shops like Lavery's are an endangered species. Nobody wants to get up at four in the morning to head for the market to pick up fresh produce anymore. I'd love to sell the vegetable shop as a going concern, but there are no takers. Nobody wants to get out of bed in the middle of the night like I have been doing for several years to head for the market at Kennedy Way."
But No 20 has already been rented out and is soon to open as an altogether different business.
Ulster Star
22/06/2012