DADDY'S LITTLE ANGEL
Motorcyclist goes from brink of death to the joy of fatherhood
by STACEY HEANEY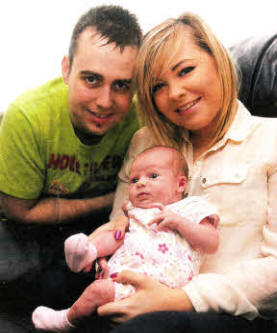 Stephen McKeever and Partner Jenna Warnock with their baby daughter Olivia. US2912-184A0 Picture by AIDAN O'REILLY
LIFE has dramatically changed for Lisburn motorcyclist Stephen McKeever in just a couple of months, as the young racer has gone from being on the brink of death to welcoming his first child, a baby girl Olivia, on July 2.
Stephen suffered horrendous injuries following a crash at the Tandragee 100 races on May 5, however, he has since made a remarkable recovery. The 22-year-old was in intensive care in the Royal Victoria Hospital after his 600cc Yamaha crashed at the Cooley Hill section of the 5.3 mile Tandragee circuit on the approach to Joey's Dip during practice for the Senior Support Race.
The impact of the crash took off his helmet and he suffered a punctured lung, broken vertebrae in his neck and back, broken ribs, a broken leg and ankle and severe head injuries.
Miraculously, the local man has since been released from hospital and is attempting to walk again.
To add to the family's joy, Stephen and his partner Jenna welcomed 71b 2oz baby Olivia earlier this month.
Our little bundle of joy
Stephen's mum Geraldine said her son is loving the roll of 'dad', and described the past two months as an emotional rollercoaster. "It has been one extreme to the other," said Geraldine. "From being near death to the birth of a new baby, it's been an 'emotional rollercoaster'.
"Olivia is probably what got him through, because something got him through.
"He's loving being a father, he's fantastic. He's trying hard and has been given extra prim or thé car seat and he gets frustrated but he can do the nursing and feeding and changing."
The prompt action of MCUI Medical Team has been credited with saving Stephen's life. Stephen's father Tony said: 'They were on the scene very quickly and sedated Stephen which stopped him from moving and we have been since told that this saved his life."
Following their ordeal the family have now organised a fundraising night in the Ballymac Hotel to give back to the medical team and the Injured Riders Welfare Fund who offered support throughout the aftermath of the crash.
A disco and light supper will be held on Saturday July 28 from 7.30pm to late for the 'Night at the Races' fundraiser in aid of the Motorcycle Union of Ireland Ulster Club Medical 'ream and the Injured Riders Welfare Fund. Tickets cost £5 and everyone is welcome.
Geraldine added: "They saved his life, there is no doubt about that. Once he came out of
ICU we had to give something back so we planned this event."
Stephen has been at home for three weeks and has since had the plaster removed from his foot and his neck brace taken off.
"He has his wheelchair and crutches but he's trying to walk without any aids," said Geraldine.
Stephen's parents, his sister Catherine and partner Jenna had an anxious wait for news following the accident and they would like to thank everyone who helped in any way. Geraldine said: "We'd especially like to thank Dr. John Hinds and Dr. Fred MacSorley, the Motorcycle Union of Ireland Ulster Club Medical Team and the Injured Riders Welfare Fund who came to see if they needed anything or if they could do anything.
"We have been helped by family, friends and Stephen's work colleagues to organise this night. Badges are being sold for both charities for £3 each. We just want to raise as much as we can for them, not that anything we make will ever be enough."
stacey.heaney@ulsterstar.co.uk
Ulster Star
20/07/2012