OBE is latest honour for Lisburn lecturer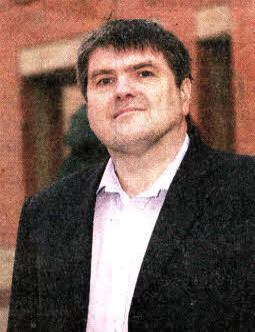 Queen's University lecturer and enterprise expert David Gibson, received an OBE for services to education In the Queen's New Year Honours list.
LISBURN man David Gibson had an extra special start to the New Year when he received an OBE for services to education.
David, a Senior Lecturer in Enterprise Education at Queen's University, said he felt "privileged" to receive the honour, which is the latest in a series of accolades for the Ballinderry man.
Last month the former Friends' School pupil was named Most Innovative Teacher of the Year in the Times Higher Education awards in London and he was awarded the world's 'number one' enterprise educator by the United States Association of Small Business and Entrepreneurship in 2010/2011 at a ceremony m Georgia, USA last January.
David, the author of The E Factor, a book aimed at increasing your career, business or social enterprise prospects, has taught over 4,000 students in his eight years at Queens, and has reached many more worldwide through his ideas and techniques.
In 2003 David introduced anew curriculum-based Certificate in Entrepreneurship Studies at Queen's. His unique teaching model, called 'venture-based learning, allows students to develop real-life business and social enterprises, and to reflect and learn from their success or failure.
More than 30,000 students have participated in the scheme since 2003 and it has now been rolled out across more than 200 universities worldwide. Earlier this year it was adopted by the European Training Foundation to enhance the employability of graduates across 'the European Union.
Speaking after hearing the news about his OBE, David said, "I was absolutely delighted, it was quite a surprise. I've had a fantastic time over the years at Queens, with a lot of students starting up businesses, a lot have got good jobs; it has gone well. What I really like is to inspire the students to be the best they can be.
"I am thrilled — it is a great honour to have your work recognised in this way. It has been an incredible 12 months, but this is definitely the icing on the cake."
David said it was "gratifying" to see his students start their own businesses, with many now linking back up with their former mentor, returning to Queens to inspire current students.
He is also currently working with Lisburn City Council and the Enterprise Centre on a new scheme, and he says he is "keen to contribute to Lisburn."
The local man discovered he had received the honour on New Year's Eve, bringing an added celebration.
David continued: "It was a fine surprise for my work and the other people who work with me at Queens, it is great to get recognised. It is good for my family and sisters, they are all very thrilled.
David has another reason to look forward to receiving his honour with at Buckingham Palace at some point later this year.
"I'm looking forward to meeting Darren Clarke," he said. "It's very exciting, I do feel privileged. It's very nice to get it and be recognised, it inspires you - sometimes you need inspiration yourself."
stacey.heaney@ulsterstar.co.uk
Ulster Star
13/01/2012