'NO JUSTICE FOR JIM'
No justice for Jim says brother
by MARY MAGEE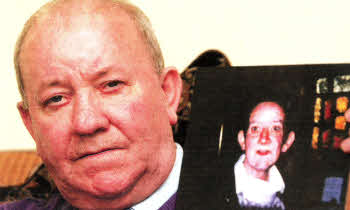 David Heasley who is disgusted with the sentence given to Jackie Allen who killed his brother Jim Heasley. US1812-13140 Pic by AIDAN O'REILLY
THE BROTHER of a popular 70-yearold Lisburn man who was attacked and killed as he walked home from a night out has hit out at the sentence given to his killer and is seeking a meeting with the Attorney General.
Jackie Allen was sentenced for six years last week for the manslaughter of defenceless pensioner Jim 'Sunshine' Heasley from Craig Gardens as he walked home along Manor Drive in the early hours of Sunday October 17 2010. Jim died a fortnight later from his injuries. Allen will serve three years in custody and three years on supervised licence.
The sentence has angered Jim's brother David who said: 'Justice has not been served."
It was only six days into the trial, which began in March, that Allen, who was denying Mr Heasley 's murder, admitted the lesser charge of manslaughter.
Mr Heasley, who had battled throat cancer for five years from 1997, had been out drinking in the Lagan Valley Pigeon Club when he confronted Allen over drinking other customers' beer.
The court accepted Allen, an alcoholic, had no recollection of the night, but CCTV footage showed Mr Heasley walking along Longstone Street and into Manor Drive where Allen followed and beat and kicked the pensioner so badly that he was left in a coma for ten days before he passed away. He suffered countless injuries including a broken shoulder, cuts and bruising to his chin, eyes and face and his side. Allen was picked up by the police minutes later after he had fallen down into a hedge drunk. They gave him a lift to his door.
David said that he was disgusted at how his brother's attack was treated by the police. He claimed nothing was done until ten days after the incident as the beating was initially regarded as a drunken fall. The handling of the case is now being investigated by the Police Ombudsman's office.
"Jackie Allen killed my brother and you can dress it up whatever way you want - manslaughter or murder - but he killed him and it was all over a mouthful of beer," said David.
"When we heard the sentence that he got it was hard to believe. It was just atrocious."
He said the family found the sentencing 'hard to take' as Allen sat 'smirking' as the sentence was read out.
It was only six days into the trial that he pleaded to manslaughter and admitted killing Jim," said David. "He has put our family through hell.
"Why he was allowed to plead manslaughter I don't know. Manslaughter to us was never on the cards. We were told that he was never being tried for manslaughter. We had no say or input into it at all.
'Justice has not been served for Jim. The whole legal system let us down.
'Jim's life and death have not been respected. His killer just sat smirking in the dock. It is really hard to take in.
"Jim's lying in Blaris and his killer deserves life." David said he was now seeking a meeting with the Attorney General.
"I want to ask him why Jim's killer was allowed out for six weeks on bail after the trial ended in March" he said.
"Life should mean life not three years."
Unprovoked attack on an innocent and defenceless man
by TANYA COULTER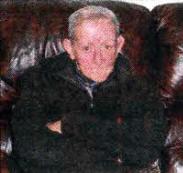 AN alcoholic who killed a pensioner after a row over a pint has been sentenced to six years for manslaughter.
Jackie Allen, 48, of Ravernet Gardens in Lisburn was told he will serve three years in custody and three years on supervised licence for the manslaughter of 70-year-old Thomas James Heasley, known to everyone as 'Sunshine', in October 2010.
Allen was originally charged with the pensioner's murder but this charge was dropped when he pleaded guilty to the lesser charge of manslaughter. During sentencing Mr Justice McLaughlin described the assault as an "unprovoked attack" on an "innocent and defenceless man".
He said it was not a case of "one-punch manslaughter" nor could it have been considered a fair fight, as Mr Heasley's injuries indicated the assault had continued after he had been shoved to the ground.
Mr Heasley was assaulted after leaving the Pigeon Club in Lisburn where he was a well-liked regular.
He was found lying in the street by neighbours who called an ambulance but died 12 days later from severe head injuries, having never regained consciousness.
The two men had been drinking separately in the Pigeon Club where Mr Heasley reprimanded Allen for drinking someone else's pint shortly before Allen was asked to leave.
Mr Justice McLaughlin said although it was unclear if Allen waited for Mr Heasley to leave, the court was satisfied that he sought out Mr Heasley, followed him and subjected him to an assault, which led to his death.
The court accepted Allen's submission that he had no memory of the event but CCTV footage showed him following Mr Heasley along Longstone Street on the night of the attack.
After Allen voluntarily went to the police, a search of his home revealed a pair of trainers which had traces of Mr Heasley's blood.
Ulster Star
04/05/2012